Chinese Leaders Pledge to Abolish Re-Education Labor Camp System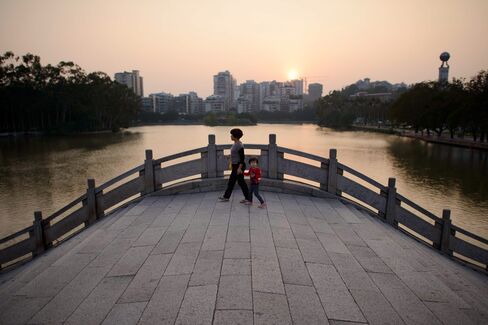 China's leaders promised to dismantle a labor camp system used to incarcerate dissidents, announcing their intention to abolish a form of imprisonment without trial.
Ending the re-education through labor camps is "part of efforts to improve human rights and judicial practices," the official Xinhua News Agency said yesterday, citing a decision from a Beijing meeting of the party's Central Committee that ended Nov. 12.
The move reflects a recognition by President Xi Jinping and other party leaders of widespread anger about the re-education through labor system, which allows police to send people to as long as four years without trial. The reform was included in a set of policy prescriptions which have the stated aim of shoring up the constitution and strengthening the country's courts.
"This is a comprehensive makeover of the justice system," said Lin Yan, an associate professor at Shanghai Jiao Tong University's KoGuan Law School.
Yesterday's announcement joined pledges from the gathering to elevate the role of markets in the world's second-largest economy while retaining the state in a "dominant" position. China will also ease China's family-planning policy so that couples may have two children if either parent is an only child.
In a speech to the meeting, Xi asked for more courage and stronger measures to push reforms, according to a transcript published by Xinhua. He said corruption is "grim" in China.
Labor Centers
A United Nations report said in 2009 that there were 320 re-education through labor centers in China with 190,000 inmates. In an indication the government was considering an end to the system, a Xinhua commentary in October, 2012, said the system has been used to persecute innocent people.
That commentary mentioned the case of a woman who was sentenced to 18 months in a labor camp after she demanded harsher punishment for seven men convicted of abducting and raping her 11-year-old daughter.
"It's open to huge abuses of human rights," said Steve Tsang, director of the China Policy Institute at the University of Nottingham in England, of the current system. "Xi has reduced one of the major abuses of power which tarnished the party's reputation and weakened popular support for the party."
China will also shrink the number of crimes subject to the death penalty, according to the announcement. China has cut the number of executions it carries out every year to 4,000 in 2012 from 8,000 in 2006, according to the San Francisco-based Dui Hua Foundation, a rights group.
New Level
"Implementation of the constitution will be taken to a 'new level' through improved supervision to ensure that all are treated equally before the law," Xinhua said, citing the plenum decision. "No organization or individual has the privilege to overstep the constitution or any other laws, and all violations will be held accountable."
The rule-of-law component of the plenum announcement may be aimed at easing anger among China's 1.3 billion people, many of whom have lost trust in the legal system, said Nicholas Bequelin, a Hong Kong-based researcher for Human Rights Watch.
"The key point that is motivating this is the recognition that the trust in legal institutions is essential for the party to maintain its leadership in the long-term," Bequelin said. "Every single legal reform point that is listed has to do with curbing the most visible and absurd defects of the system."
"The system has infringed on human rights and the rule of law, undermining the government's accountability," the 2012 Xinhua commentary said. "People expect that the system will be abolished as soon as possible."
Community Correction
The plenum communique indicated that the existing system will be partly replaced with a "community correction" mechanism. Questions remain about how much that new system will protect people's rights, with Human Rights Watch saying in January that the current mechanism could be replaced by one that leaves many re-education through labor camps intact.
"It is significant even though there are some concerns that China may introduce shortly a new way of detaining people without giving them giving them full trial rights," Bequelin said. "There is a risk that China intends to re-introduce a system of 'RTL-lite' soon, and that would be regrettable."
— With assistance by Henry Sanderson
Before it's here, it's on the Bloomberg Terminal.
LEARN MORE