Who Will China's New Security Agency Target?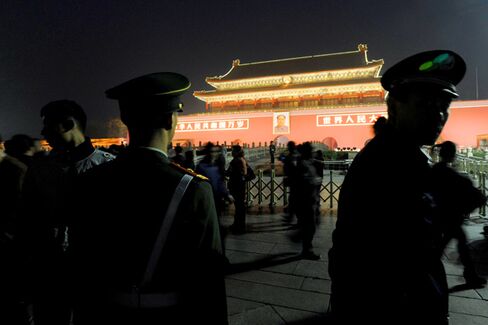 An interesting question to consider of China's soon-to-be-formed national security committee, announced at the end of the third plenum on Nov. 12: Will its primary focus be containing what the party perceives as threats from overseas? Or will it instead aim at combating threats seen as coming from within?
The question has a special relevance following a fiery Jeep crash in Tiananmen Square that killed five on Oct. 25. Authorities quickly called it a "violent terrorist attack," blaming those who advocate independence for Xinjiang, the largely Muslim region of western China that's home to the Uighur ethnic minority.
"Security in East Turkestan has been stepped up and official media has hinted at repercussions for the Uyghur people," wrote the World Uyghur Congress, a Uighur exile group based in Munich, Germany, in a Nov. 1 press release. We are "extremely concerned that Uyghurs in East Turkestan and across China are about to enter into a period of unprecedented repression." (East Turkestan is the name the organization uses for Xinjiang.)
"The purpose of the committee is to ensure the nation's security," Ministry of Foreign Affairs spokesman Qin Gang told reporters in Beijing on Nov. 13. "That should make terrorists, extremists, and separatists nervous. Anyone who would disrupt or sabotage China's national security should be nervous."
Meanwhile, a foreign ministry-affiliated research institute has suggested the agency may have an international focus. It will allow China to better confront international challenges as its global might grows, said Qu Xing, head of the China Institute of International Studies, a research arm of the foreign affairs ministry, in an article on the People's Daily website.
The planned commission was mentioned only briefly toward the end of the 5,000-character communiqué released at the plenum and in a section dealing with internal matters. China must "establish a National Security Committee, and perfect national security system and national security strategy and guarantee national security," said the communiqué.
For at least some Chinese, as shown by recent Internet traffic, a national security agency focused on controlling those inside the country is a scary thing. "My first reaction is that this will mean more crackdowns on the people," wrote one microblogger on Sina Weibo, translated by website offbeatchina.com.
"China doesn't have many external threats. But 'mass incidents' by the people are real threats to the ruling party. So there you go!" wrote another. "Mass incidents" is the official phrase used by the party to describe protests, many sparked by ethnic conflicts, land seizures, and environmental issues. Earlier this year, a retired party official said China has 30,000 to 50,000 such protests every year.
"Why are some people concerned about the setup of a state security committee? Deep down, it's because China's leadership typically mixes state security with security of the ruling government," wrote Jinmanlou on Sina Weibo. "Most of the time, security of the ruling government is spruced up as national security. What is designed to guard against foreign forces is used on ordinary citizens."
Before it's here, it's on the Bloomberg Terminal.
LEARN MORE