Animal-Rights Activists Celebrate Small Victories in China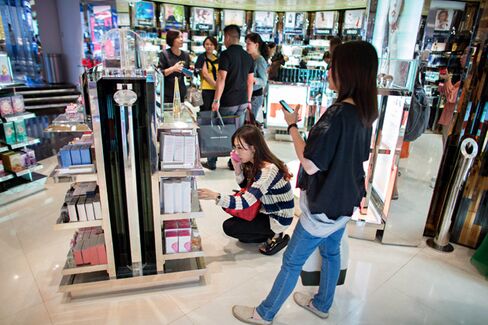 The campaign against animal testing has gotten a big boost from an unlikely place. For years, China has been a black spot for the animal-rights movement. To tap China's $32 billion beauty market, multinationals have to test their products on animals to demonstrate there's no risk to humans, and as Bloomberg Businessweek reported in September, that requirement leads to such practices as dripping ingredients into rabbits' eyes. Humane Society International says chemical testing for cosmetics involves more than 300,000 rabbits, mice, and other animals annually.
Now the Chinese government is easing rules requiring animal testing. China's Food and Drug Administration will allow local companies to use other data, including results from overseas tests done without animals, to show that their products are safe. "This change has been long hoped for, but few anticipated it happening quite so soon," Dave Neale, animal welfare director of Hong Kong-based advocacy group Animals Asia, said in a statement today. "In many ways this is a victory for all anti-testing campaigners."
The victory is not a complete one. The rules apply only to Chinese companies, so foreign cosmetics producers that refuse to test on animals still cannot sell in China. But there's reason to be optimistic about further reform, activists say. "It looks like there could at last be a bright future for cruelty-free companies in China and hope on the horizon for an end to cosmetics cruelty," Humane Society International said in a statement issued last week.
Chinese lawmakers have been considering legislation to protect animal welfare, says Jill Robinson, founder and chief executive of Animals Asia. The legislation is stalled, however, and nothing is likely to become law "for the next five years or so," she told me in an interview today.
Animals Asia operates sanctuaries in China and Vietnam for bears rescued from farms that milk them for their bile, prized by some practitioners of traditional Chinese medicine. Her group has enlisted such celebrities as retired NBA star Yao Ming to promote awareness of the harm caused to bears by sticking catheters into their abdomens and draining out their bile.
Although the industry continues to operate in China, its critics have won some victories. Last year more than 70 Chinese celebrities signed a petition opposing a planned initial public offering by a company that made medicines from bear bile. The company, Fujian Guizhentang Pharmaceutical, never went ahead with the listing, with the China Securities Regulatory Commission saying in May that Guizhentang was among 269 companies that had withdrawn their applications. More than 1,000 Chinese medicine shops have pledged not to sell bear bile, Robinson says, "and we believe another 800 will be joining soon."
That's a start, but China has more than 40,000 shops selling traditional medicines, Robinson says, and most of them still sell bear bile.
Before it's here, it's on the Bloomberg Terminal.
LEARN MORE