Harvard Business Review Defends New Restrictions on Sharing Articles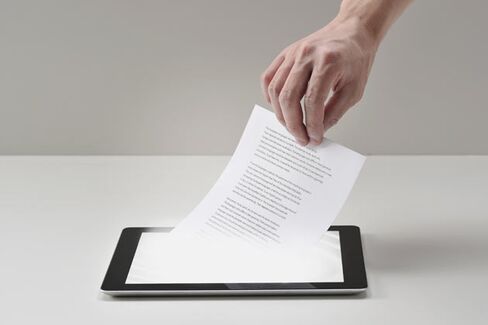 In 2009, Harvard Business Review sought higher fees from a small number of university libraries that used the academic aggregator Ebsco to provide students access to the journal: Ebsco licenses, the publication argued, were intended for academic research, not to share course materials. Business schools that wanted to use the HBR articles—generally summaries of scholarly research written for a non-academic audience—were asked to pay an additional fee.
This summer, HBR expanded its efforts to collect from schools using its articles for course materials, restricting access to 500 frequently shared articles. That led one aggrieved business school professor to argue that the publication was engaging in "evil" behavior, and the American Library Association's business reference librarians to "decry the erosion of full access to scholarly material." Today, the Chronicle for Higher Education reported that business schools have been asked to pay as much as $200,000 for the annual memberships.
For Joshua Gans, the professor at the University of Toronto's Rotman School of Management who criticized HBR for "crossing the 'evil' line," the new fees are an affront to standards governing "how academics use each other's work in normal academic settings." (Gans, by the way, is the author of a 2012 book called Information Wants to Be Shared, published by none other than Harvard Business Review Press.)
That's not how Sam Hainer, business director for the higher education group at Harvard Business School Publishing, which puts out HBR, sees it. He says criticism of the publication's new sharing restrictions overlooks the history leading up to the policy. When HBR entered into its agreement with Ebsco in 2000, the publication anticipated that content-sharing would be an issue, says Hainer. "As a nonprofit organization with an educational mission, how to price our material in a sustainable way is a question we face every day," he says.
The journal specified that Ebsco licenses to its material did not apply for course material. It didn't want to undercut its efforts to sell course materials to business schools. (Full disclosure: Ebsco licenses Bloomberg Businessweek content.) In practice, the terms of the license didn't stop professors from using Ebsco to share content with students—HBR reps would occasionally look up article sales to a given university and see that business had fallen by 80 percent as link-sharing took hold. The organization didn't like losing the revenue, but it was living in a world where free content was increasingly the norm. "We didn't like telling people they couldn't do it," says Hainer. "We were in the Internet age. Telling people not to share links was a difficult proposition."
Hainer says about 50 business schools have agreed to new fee structures. While some schools have been quoted about $200,000 a year, most universities are paying less than $10,000 a year. Meanwhile, it's still early days for publications that charge for content in the digital age. Newspapers and other mainstream publications have faced a backlash over efforts to hide content behind paywalls. The New York Times, notably, has succeeded in instituting a paywall after previously offering stories for free.
The Chronicle suggests that HBR's policy shift could lead business schools to assign fewer articles from the publication. In turn, that could create the opportunity for another business journal to gain wider circulation. Or perhaps, as Hainer suggests, the new policy will make the way business schools pay for course content fairer and more efficient. If that turns out to be the case, someone may eventually write an article for HBR on the publication's efforts.
Before it's here, it's on the Bloomberg Terminal.
LEARN MORE