China Creates Security Committee With Warning to Terrorists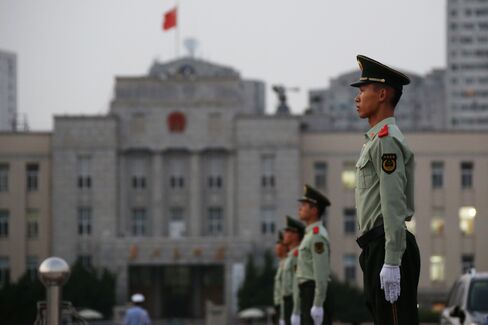 China's Communist Party leaders set up a state committee to better coordinate security issues as it expands its military reach and faces growing dissent at home.
In a one-sentence statement toward the end of a 5,000 character communique yesterday, the party said it would establish the committee and improve the country's national security system and strategy.
"The purpose of the committee is to ensure the nation's security," Foreign Ministry spokesman Qin Gang told a regular briefing today when asked about the body. "That should make terrorists, extremists and separatists nervous. Anyone who would disrupt or sabotage China's national security should be nervous."
The announcement of a new body was part of a section in the communique on China's internal matters, and no details were given about what the committee would do or who would lead it. The body will help China better respond to international challenges as it rises in global stature, Qu Xing, head of the China Institute of International Studies, an official research group under the Foreign Ministry, said in an article on the website of the party's official People's Daily newspaper.
U.S. Model
A panel modeled on the U.S. National Security Council, which brings together top officials from the White House, State Department, Defense Department and other actors to streamline decision making, may help China better respond to fast-moving crises. U.S. officials in April 2001 waited for days for a response from China when a U.S. spy plane was forced to land on Hainan Island in southern China after a mid-air collision with a Chinese fighter jet.
"There's been talk of establishing an NSC-like body for coordinating national security policy for over a decade," Taylor Fravel, a professor at Massachusetts Institute of Technology who studies China's ties with its neighbors, said in an e-mail. "That said, this appears in the section on domestic affairs and could very well be a domestically oriented body, though it could also have some international role."
Aerosun Corp. and Beijing Aerospace Changfeng Co. led Chinese defense shares higher after the pledge to create the committee, with Aerosun jumping by its 10 percent limit to 8.47 yuan at the close in Shanghai and Beijing Aerospace Changfeng rising almost 10 percent to 11.89 yuan.
Ethnic Tensions
China's government faces a growing number of strikes, protests and riots that it considers threats to domestic stability, alongside ethnic tensions in western regions such as Tibet and Xinjiang. On Oct. 28, a sport-utility vehicle crashed and burst into flames near Beijing's Tiananmen Square in front of the gate bearing the portrait of Chairman Mao Zedong, killing its three occupants and two bystanders. The government called the incident a terrorist attack.
Jin Canrong, a professor at the School of International Studies at Renmin University in Beijing, said China's government agencies often don't coordinate with each other, creating the potential for conflict. "All the government agencies also have their own interests," Jin said. "We do need better coordination."
President Xi Jinping is likely to head the new committee, according to Zheng Yongnian, director of the East Asian Institute at the National University of Singapore. Xi assumed the chairmanship of the Central Military Commission when he became party general secretary in November, 2013, giving him control over the People's Liberation Army.
Gates Incident
Domestic security is now handled by the Central Politics and Law Commission headed by Meng Jianzhu, who isn't on the Politburo Standing Committee, the party's highest ruling body. Foreign affairs is also channeled through a Foreign Affairs Work Leading Small Group, which serves as a coordinator for different ministries.
At times, China's top leaders have not seemed as well-briefed on military developments as the U.S. president. In January 2011, then-U.S. Defense Secretary Robert Gates, on a visit to Beijing, said then-Chinese President Hu Jintao appeared unaware that his military was carrying out a test flight of a new jet fighter that may have had stealth capabilities.
"This is an area where over the last several years we have seen some signs of, I guess I would call it a disconnect, between the military and the civilian leadership," Gates said at the time. He said that while such lapses occasionally occur in the U.S. too, "this is something of a worry."
— With assistance by Henry Sanderson, and Michael Forsythe
Before it's here, it's on the Bloomberg Terminal.
LEARN MORE