Virgin America to Merging Airlines: Let Us Into Your Hubs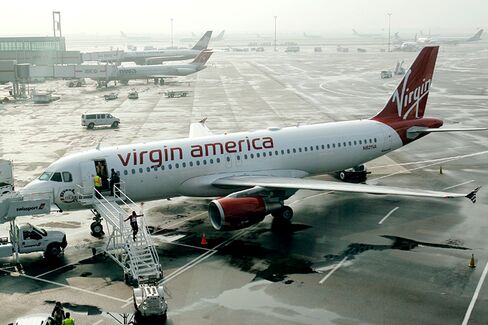 Virgin America is looking for more access at the big U.S. hub airports that can generate enormous profits for an airline, and the company has a pretty good idea of where it might be able to get some. With American and US Airways engaged in settlement talks with federal antitrust regulators over their hoped-for merger, Virgin America is looking to file a court brief pushing for the betrothed carriers to give up far many more landing slots in any final deal.
In a notice seeking permission to file a friend-of-the-court brief, Virgin America framed its concerns over the potential harm the merger would do to passengers—and suggested a remedy that would suit its own interests just fine: "[T]his loss of competition could be mitigated," the court filing suggested, if American and US Airways agreed "to provide current and future (low-cost carriers) access to" their hubs. Antitrust discussions with federal regulators have largely focused up to now on concessions at capacity-restricted airports in New York and Washington, but Virgin America has broader ideas. While
the airline declined to elaborate exactly where it wants to see gate access given up by the merging airlines, it has in the past named such large hubs as Atlanta, Denver, and Phoenix as places it wants to expand. At Chicago's O'Hare International, for example, Virgin only offers limited service and clearly aspires to add some.
In a telephone interview on Monday, Virgin America Chief Executive Officer Dave Cush said that the existence of only two new national airlines since 2000—his and JetBlue Airways—attests to the high barriers to entry that a new airline must encounter. The financial costs are enormous, and legacy airlines typically add flights and lower fares when a rival airline enters a given route, aiming to protect their existing market share. "Maybe the rules need to be a little different on how these massive, powerful airlines are allowed to compete," Cush said.
Virgin is not alone in seeking a chunk of whatever the merging carriers are forced to give up. Last week, Southwest Airlines said it would file a similar brief to explain why it should obtain additional slots at Reagan National Airport near Washington and at New York's LaGuardia Airport. Southwest said it will give U.S. District Judge Colleen Kollar-Kotelly "the perspective of how it could—if it were to obtain additional slots—provide an important competitive restraint on a merged US Airways and American Airlines" at those airports.
Virgin America, meanwhile, has been complaining for some time about how United, currently the largest airline, has been quick to "dump capacity" by beginning many new flights on new routes opened by Virgin America. The upstart airline operates a hub in San Francisco, as does United, and started flying this year to Newark, another United hub. It also competes heavily with United and other legacy airlines for business traffic in major cities. In Newark, for example, United responded to Virgin America's three daily Los Angeles- and San Francisco-bound flights with new trips and lower prices to both cities. "If they want to dump capacity on our schedule, they have the financial wherewithal to do it," Cush said.
Judge Kollar-Kotelly has set a Nov. 15 deadline for friend-of-the-court briefs, and the trial is scheduled to begin 10 days later. American and US Airways contend that their merger will benefit consumers by providing a viable third competitor to the larger Delta and United. They also argue that the combined company will offer more stable employment and better service than either airline can on its own.
Virgin America reported on Monday morning a $33.5 million profit for the busy summer quarter, reversing a $12.6 million loss for the same period of 2012. The black ink is expected to continue for the final quarter of 2013, which may help the airline to turn a small annual profit, Cush said. Virgin America also reported a small profit in the second quarter, only its second since it began flying in 2007.
The company isn't ready to predict a profit for next year's first quarter, typically the toughest financial time of the year for U.S. airlines. "In the airline industry, I think anytime you say no more red ink, that's a pretty risky perch you're putting yourself down on," Cush said. Still, Virgin America and its investors—including Virgin Group founder Richard Branson—would like to contemplate a public offering in the next year if market conditions allow. Virgin America also has seen its ancillary revenue increase 22 percent this year, helped mainly by selling quicker boarding and access to overhead bins in economy.
The airline has been helped by a slowing of its growth—only one new airplane this year, followed by 10 more from Airbus through 2016, will yield an annual growth rate of about 10 percent, far below the roughly 30 percent to 35 percent of its earlier days. That helps to reduce capital expenses and allows routes to mature. "The days of double-digit growth for us are behind us," Cush said.
Before it's here, it's on the Bloomberg Terminal.
LEARN MORE