South African 'Born Frees' Uninterested in 2014 Election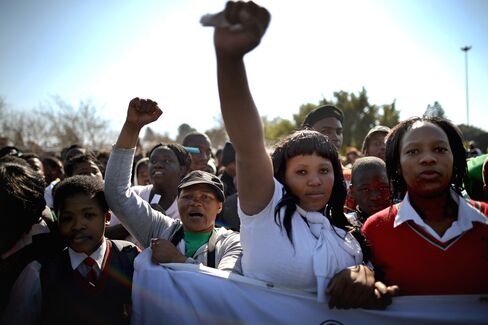 South Africans born after the end of white minority rule in 1994 show little interest in voting in next year's election, according to data from the Independent Electoral Commission.
Less than a quarter of people aged 18 to 19 are registered to vote, the commission said in an e-mailed statement yesterday after collating data from the weekend's voter registration drive. That compares with 55 percent of people aged 20 to 29.
South Africans born almost two decades ago when the ruling African National Congress came to power in the first multi-racial election, known as 'Born Frees', are showing more apathy toward voting as the jobless rate among young people reaches almost 40 percent.
"I don't get how voting will change my life for the better because South Africa has such high unemployment right now," Matidi Mahlatsi, a 21-year-old tourism management student at the University of Johannesburg, said in an interview on Nov. 8. "My two sisters are highly educated and they've struggled to find jobs so if I haven't seen voting improve their lives, I'm sure it won't do anything for me."
About 66 percent of South Africa's population of 53 million are below the age of 35, according to official data. The nation's unemployment rate of 24.7 percent is the highest of more than 40 emerging markets tracked by Bloomberg.
'Party Loyalty'
The ANC has won more than 60 percent support in every election since 1994, gaining more than four times the votes of its nearest rival, the Democratic Alliance, in the last election in 2009. The ruling party is facing challenges from a number of new parties, including Economic Freedom Fighters, which was formed by expelled ANC youth leader Julius Malema.
"South Africa's youthful society is more worried about their bread and butter and issues that help them improve their lives, than party loyalty," Benjamin Roberts, a political analyst at the Human Sciences Research Council in Durban, said in a phone interview.
The IEC registered 1.1 million new voters at the weekend, bringing the total number of people signed up to go to the polls to 24 million, or 77 percent of the adult population.
The low registration levels for 18 to 19-year-olds "presents an on-going challenge for all South Africans to encourage a new generation of voters to participate," the IEC said.
The North West province had the second-lowest tally of new registrations after the Northern Cape, according to the IEC. The region has been plagued by rising unemployment amid mine closures and job cuts as commodity prices drop and wage demands escalate. More than 26 percent of the province's working-age population were unemployed in the third quarter, according to a report by Statistics South Africa.