Indonesia Unexpectedly Raises Key Rate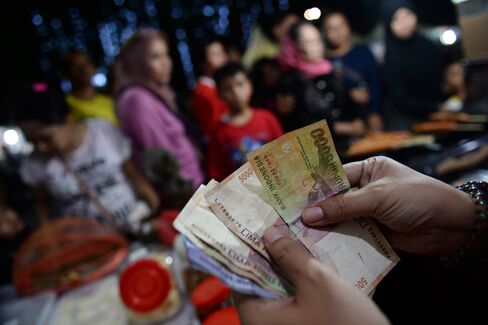 Indonesia unexpectedly raised its benchmark interest rate to the highest level in more than four years, stepping up its campaign to shore up the exchange rate and damp inflation in Southeast Asia's biggest economy.
Bank Indonesia raised the reference rate by 25 basis points to 7.5 percent, it said in Jakarta today, surprising the 24 of 25 economists surveyed by Bloomberg News who predicted no change.
Governor Agus Martowardojo, 57, has now mounted his fifth surprise bump in borrowing costs since taking the central bank's helm in May, accepting slower growth as a price for reining in a record current-account deficit. The rupiah, one of the worst-hit currencies when capital flowed out of emerging markets earlier this year, pared declines after the release.
"The move is preemptive and they're willing to live with lower growth, lower credit growth, lower import growth so long as the current account is at a more manageable magnitude," said Chua Hak Bin, an economist at Bank of America Corp. in Singapore. "Nine months ago, there were some concerns that BI was behind the curve. They're also acting to restore their credibility, to preempt further concerns."
The rupiah fell 0.3 percent against the dollar as of 5:30 p.m. in Jakarta, after losing as much as 0.8 percent earlier, prices compiled by Bloomberg from local banks show. It has declined about 17 percent this year, the worst performance among 11 major Asian currencies tracked by Bloomberg.
Economic Legacy
Indonesian officials are grappling with a depreciated exchange rate, elevated inflation and diminished foreign capital inflows undermining President Susilo Bambang Yudhoyono's legacy of economic stability before he steps down next year.
Today's rate move was aimed at easing the current-account gap and meeting the inflation target, the central bank said in a statement after the board meeting. Bank Indonesia said it will continue to safeguard the stability of the currency. The central bank also raised the deposit facility rate to 5.75 percent from 5.5 percent.
The current-account shortfall was 4.4 percent of gross domestic product in the three months through June. Bank Indonesia will release the third-quarter figures tomorrow. The deficit may have narrowed to $8.4 billion last quarter, or about 3.7 percent to 3.8 percent of GDP, from about $10 billion in the previous three-month period, the central bank said.
Narrowing the deficit is the number one priority for Indonesia, and the government is planning a policy package this month to help the balance of payments, Finance Minister Chatib Basri said Nov. 7.
Tolerance Level
"Earlier in the year, we sensed that BI was tolerant of growing external imbalances as long as capital flows were still coming and deemed sufficient as a counterbalance," said Helmi Arman, an economist at Citigroup Inc. and the only analyst in the Bloomberg survey to predict the rate outcome. "Now BI has a clear objective of bringing down the current-account deficit. Hence even though bond market capital flows recover, BI can tighten monetary policy if data outcomes do not point to a current-account deficit reduction that meets expectations."
With today's move, the central bank has raised its key rate by 1.75 percentage points since early June to shore up the rupiah and stem price gains. Inflation remained above 8 percent for a fourth month in October.
"The lagged impact of substantial rate increases in the last few months will weigh heavily on growth in coming quarters," said Krystal Tan, an economist at Capital Economics Ltd. in Singapore. "Barring another bout of financial market turbulence, we think today's move is likely to be the last in the current tightening cycle."
GDP increased 5.62 percent in the three months ended Sept. 30 from a year earlier, after climbing 5.83 percent in the second quarter, the government said Nov. 6. Bank Indonesia predicts 2013 growth of between 5.5 percent and 5.9 percent, and forecasts an expansion of 5.8 percent to 6.2 percent in 2014.
Before it's here, it's on the Bloomberg Terminal.
LEARN MORE