Top Burgers, Birkin Sings, Sheridan Smith: London Weekend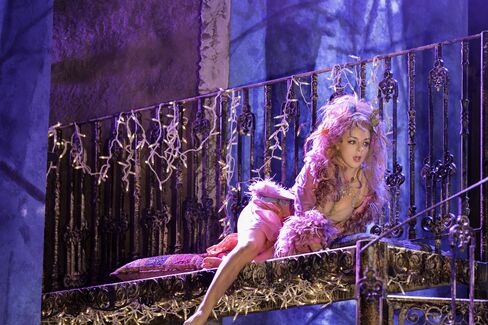 Tracey Emin's sketch of the Queen, a Jane Birkin concert, Sheridan Smith, and burger bargains are our choices for London this weekend.
STAGE
You have a week left to see Sheridan Smith in a hippie version of "A Midsummer Night's Dream."
Best known for roles in "Legally Blonde" and "Hedda Gabler," the actress now plays the pink-haired Queen of the Fairies, Titania. The characters in Michael Grandage's staging smoke pot, wear shades and cheerily cavort in a 1960s commune.
Ends Nov. 16 at the Noel Coward Theatre. Information: http://www.michaelgrandagecompany.com or +44-844-482-5141.
DINING
Burger & Lobster this week opened a new branch on the Fifth Floor of Harvey Nichols. Shoppers at the department store can at least save money on eating: A whole lobster costs just 20 pounds ($32), including a salad. A new option for Knightsbridge menu is the California burger, where iceberg lettuce replaces the bun. Information: http://www.burgerandlobster.com/.
VISUAL ARTS
The Queen got a gift from the cross-dressing artist Grayson Perry last year: the sketch of a motorcycle he designed. It's one of more than 100 works given by Royal Academicians for her 60th year on the throne -- all on view at the Queen's Gallery.
The best is Anish Kapoor's blood-red gouache. Tracey Emin's monoprint of a crowned Elizabeth isn't bad either, if only she hadn't misspelled Britannia at the bottom of the work (an error that the plaque and catalog have faithfully reproduced).
"Gifted" is at the Queen's Gallery, Buckingham Palace: http://www.royalcollection.org.uk/ or +44-20-7766-7300.
MUSIC
Birkin performs ex-boyfriend Serge Gainsbourg's tunes -- to Arabic-style arrangements -- at the Barbican Saturday: http://www.barbican.org or +44-7638-8891.
Steve Reich is at the Southbank Centre on Sunday for a question-and-answer session followed by a concert.
The composer's "Clapping Music" starts the Royal Festival Hall event. Reich is back in the news after this applause piece inspired David Bowie's latest track, the ten-minute "Love Is Lost," the best rock release of the week. http://bit.ly/161PJ9W
OTHER LONDON OUTINGS
The Natural History Museum's vast ice rink is open for business in the run-up to the holidays, with skates for hire and a pop-up cafe: http://www.nhm.ac.uk or +44-20-7942-5000.
Also open is the rink in Canary Wharf, fitted between tall corporate towers, which claims to be bigger than the ones at either Somerset House or the Tower of London. Information: http://www.icerinkcanarywharf.co.uk.
(Farah Nayeri writes for Muse, the arts and leisure section of Bloomberg News. The opinions expressed are her own.)
Muse highlights include the London and New York weekend guides, Lewis Lapham on history, Richard Vines on food, Warwick Thompson on theater and Greg Evans and Craig Seligman on movies.