SAC Capital's Guilty Plea: A $1.2 Billion Fine, Nobody Goes to Jail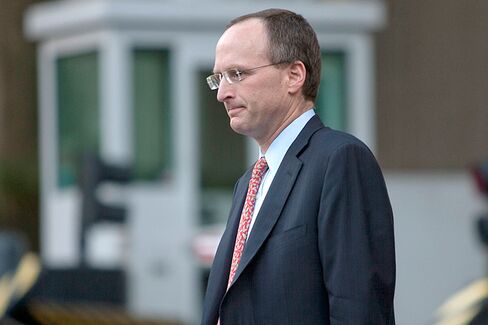 SAC Capital's lawyers filed into a Manhattan courtroom this afternoon to try to put an end to the long, distracting government investigation that has been hanging over the company and founder Steven Cohen for seven years. A giant hedge fund is pleading guilty to insider trading. A record-setting $1.2 billion fine is being paid. But no one, at least for now, is going to jail.
Not surprisingly, Cohen did not appear in court to represent his company. In his stead was SAC general counsel, Peter Nussbaum, visibly in pain after enduring an emergency appendectomy around two weeks ago. At one point, U.S. District Court Judge Laura Taylor Swain asked Nussbaum whether he was in a clear enough state of mind to understand the charges to which SAC was pleading guilty and whether he was under the influence of any drugs or alcohol. "I've taken some antibiotics for my condition," he said.
In her no-nonsense tone, the Judge then had the parties walk through the rather voluminous pile of evidence government prosecutors have amassed against SAC, including guilty pleas from six former traders and analysts who have admitted to insider trading at the firm. Assistant U.S. Attorney Arlo Devlin Brown added: "Insider trading at SAC was not limited to the conduct of these six employees. The government would demonstrate at trial that additional employees engaged in insider trading." Later, he said that the government would have focused on the culture and tone at the firm in which this activity was allowed to flourish. "Proof of the tone is set by senior management," Brown said, which the government would have illustrated through testimony from witnesses and "recorded phone calls." The judge reserved judgement on the plea until March.
In spite of all that, Cohen is projecting a sense of business as usual at SAC Capital. He has indicated to his employees that he plans to convert his fund into a family office trading his own money once SAC's guilty plea forces him to shut down his investment advisory business. Cohen will remain on the board of the prestigious Robin Hood Foundation philanthropic organization, and major investment banks such as Morgan Stanley and Goldman Sachs seem little disturbed by the fact that SAC just pleaded guilty to criminal securities fraud.
"We at SAC regret terribly the conduct of these employees," Nussbaum said in court. "We have paid and are paying a very steep price for their actions." He went on, "We are chastened by this experience, but we are determined to emerge from this as a better firm." For the time being, it appears that there will continue to be a firm, with Cohen at the head.
Before it's here, it's on the Bloomberg Terminal.
LEARN MORE