China's Exports: Back on Track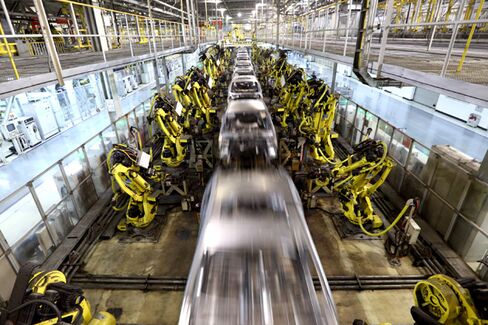 China's exports are back on track. After a disappointing September, overseas shipments from China last month rose 5.6 percent, better than expected. The October growth compared with a decline of 0.3 percent in September and was well above the consensus estimate of 1.7 percent. With imports up 7.6 percent, China had a trade surplus of $31.1 billion, the biggest this year.
"China's export numbers suggest some—although not yet decisive—improvement in global demand momentum," writes Louis Kuijs, chief China economist at Royal Bank of Scotland in Hong Kong, in a Nov. 8 research note.
That's good news for China. All told, China has some 30 million workers who are directly dependent on China's export industries and an additional 100 million serving in supporting industries, said Premier Li Keqiang in a recent speech. "If exports fall rapidly, it will create an employment problem," he said on Oct. 21 at a meeting of China's official union in Beijing.
Who was buying Chinese goods? Sales to both the U.S. and European Union showed significant improvement. Exports to the U.S. grew 8.1 percent, up from 4.2 percent in September, while they were up 12.7 percent to the EU, compared with a fall of 1 percent the previous month. "Exports to the EU rose at their strongest pace in two years," writes Wang Tao, China economist at UBS Securities in a Nov. 8 report.
While overseas shipments to the Asean region expanded at a pace of 12.7 percent, that was down significantly from earlier in the year, "reflecting the economic slowdown there as countries are trying to reduce current account deficits," writes RBS economist Kuijs.
Still, numbers in coming months may not be strong. One reason is the effect of earlier overinvoicing of exports in the second half of 2012 and the first half of 2013, to move capital into China. "With the drag from the inflated base of a year ago getting larger, China's headline export data may look quite weak in the months ahead," cautions Kuijs. (The invoice funny business means real export growth was about two percentage points higher in October, or 7.6 percent, Kuijs estimates.)
Before it's here, it's on the Bloomberg Terminal.
LEARN MORE