The Best Business Schools of 2013: Part-Time and Executive MBA
With applications on the decline, MBA programs are offering more courses online to make their degrees more attractive to working professionals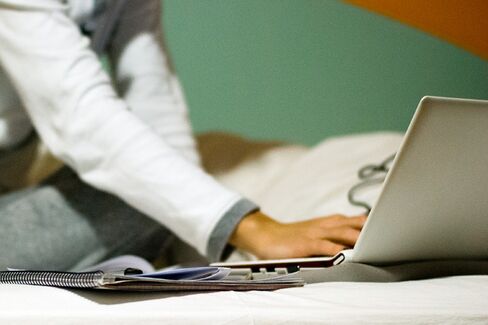 As Navdeep Martin was weighing which MBA programs to apply to, her most important consideration was time. An IT professional with 15 years' experience, Martin wanted to take her career in a new direction, and she thought an MBA would help her get there.
Leaving behind a steady paycheck to get a degree was out of the question. So Martin zeroed in on part-time and executive MBA programs near her home in Washington and eventually narrowed her choices to Georgetown University's McDonough School of Business and the University of Virginia's Darden School of Business. She liked that Georgetown's evening program was highly regarded and five miles from her home. But part-time MBA programs usually require students to be on campus a few evenings each week. Martin knew she'd spend two hours in rush-hour traffic just to get there. "It would have been a huge waste of time," she says.
The Virginia program she was considering was of the executive MBA, or EMBA, variety. The Charlottesville campus was 120 miles away, but she would be required to show up only one weekend a month. Also, much of the first-year course work could be done online. Using the university's videoconferencing platform, she could participate in lectures and interact with her professors and classmates as if she were on campus. "You could be on your phone listening to the class while you were on your way home," says Martin, who graduated from the program in May. "It was so convenient."
The anywhere/anytime demands of working professionals such as Martin are shaking up MBA programs. In the typical part-time format, entering students have about five years of work experience and live within 50 miles of the school. Classes are offered on weekday evenings. Students in EMBAs typically have at least 14 years' experience. The programs are offered on alternating weekends and attract students from a much wider geographic area. In general, part-time programs take three to six years to complete, while EMBAs tend to follow the full-time MBA format, lasting about two years. To compile the 2013 Best Part-Time MBA and Best Executive MBA rankings, Bloomberg Businessweek surveyed more than 10,000 recent grads from both types of programs at 138 B-schools.
Potential applicants are finding it more difficult to justify breaking away from their lives to enroll in an intense, time-consuming MBA program—especially as more are footing the bill themselves, because of waning financial support from employers. Fewer are even bothering to apply: Among the 328 business schools that completed the Graduate Management Admission Council's 2013 Application Trends Survey, 53 percent reported a drop in volume of applications to part-time programs, while 51 percent of those offering executive programs saw a decline. It's happening even at top schools. At Rice University's Jones Graduate School of Business, ranked seventh overall, applications to the part-time program were down 12 percent this year from the year before. Application volume dropped 13 percent for the EMBA program at the University of Southern California's Marshall School of Business, ranked eighth overall, and almost 17 percent at Carnegie Mellon's Tepper School of Business, Bloomberg Businessweek's top-ranked part-time program.
As in any industry, business schools are tweaking their product to reflect changing customer desires, attempting to make their programs more appealing—and convenient—by taking portions of the course work off campus and onto the Internet. Students who enroll in Tepper's part-time MBA program, for instance, have the option of earning their degree primarily online: Lectures and discussions are still held at a set time on weekday evenings, but students don't have to be on campus to participate. Also, the online program follows the curriculum of the on-campus offering, so students can easily switch from one format to the other, depending on their needs. "Education has resisted the technology push for a long time," Tepper Dean Robert Dammon says. "That's not the case any longer. It's changing the way we do things."
This online push comes at a time when higher education is trying to find its place in an increasingly digital landscape. Several universities have started to experiment with offering their classroom content—and top professors—to the public through massive open online courses, or MOOCs. Stanford University, Massachusetts Institute of Technology, and Harvard University have entered the MOOC market, providing courses in subjects as varied as circuits and electronics, poetry in America, and environmental physiology. Among business schools, the University of Pennsylvania's Wharton School offers most of its first-year MBA curriculum online, free of charge.
Some B-schools are wading in slowly. The EMBA program at Southern Methodist's Cox School of Business, ranked third overall, is equipping each student with a Samsung Galaxy tablet to augment course work and to provide them with online access to classroom materials. Similarly, the University of California at Berkeley's Haas School of Business recently announced a mobile education platform for use in its EMBA program.
Other institutions are offering hybrid programs similar to Tepper's. Last fall the University of Missouri's Trulaske College of Business launched a mostly online EMBA program called execMBA in which students view class lectures at their convenience and are required to be on campus only 25 percent of the time. The rest of the course work is completed online. The execMBA program marked the school's first foray into the working-professionals market. "We were able to start this program from scratch knowing what the technology allowed and could do," says Trulaske Dean Joan Gabel.
Because MBA applicants usually place a high value on face time with classmates and professors, putting such a large percentage of the program online was a risky move. It's also the reason the Trulaske program isn't eligible for the Bloomberg Businessweek ranking. But the school's out-of-the-way location in Columbia, Mo., made it difficult to sell a traditional on-campus EMBA option. And offering the program in a nearby city such as St. Louis or Kansas City, Mo., was out of the question; both those locations are already home to multiple executive programs. "We decided to be location-free," Gabel says.
Over 21 months, students follow a curriculum that includes 48 credit hours of course work and an international trip. Using the online technology, students have the ability to view class lectures, collaborate with classmates on group projects, and hold mandatory weekly meetings with their professors. Nineteen students enrolled in execMBA in 2012, the first year the program was offered. This year's class rose to 28, and Gabel expects enrollment to hover around 35 in the future.
At the University of California at Los Angeles's Anderson School of Management, there already was a successful on-campus part-time program when administrators started looking into launching a hybrid format in 2009. "We wanted to be ahead of the curve," says Carla Hayn, senior associate dean of the executive and fully employed MBA, or Femba, programs at Anderson. "Not only was online education catching on, but we realized that the target audience for our part-time MBA program was busier than ever."
It wasn't an easy sell with faculty. While some supported the idea, others were concerned students wouldn't get the whole classroom experience. The school ran a few test courses in the winter quarter of 2010 and found the results promising. Students who took the courses performed equally well as those in a traditional classroom setting, and the professors quickly adjusted to the electronic classroom. Last fall one section of the school's Femba was offered in the hybrid format, called Flex, with half of the course work being completed remotely. Students followed the same core curriculum as the other four sections, except instead of commuting to campus, they viewed lectures and completed course work at home. Because most of the content is prerecorded, students could watch online lessons whenever it was convenient for them. There were 35 students in the first class of the Flex program. This fall there were 62. "Working professionals want to get that education," Hayn says, "but it's hard to take a class from 7 to 10 at night."
Only 8 percent of the membership of the Executive MBA Council, a trade group representing EMBA programs, report having a distance-learning component—meaning students rarely have to set foot on campus. But in a sign of how fast hybrid approaches are proliferating, nearly every one offers at least a piece of their program online, whether it's class work, discussion groups, or past lectures. "This isn't a fad; this is real," says Michael Desiderio, executive director of the EMBA Council. "Now we have to figure out what are the implementations that make sense."
Before it's here, it's on the Bloomberg Terminal.
LEARN MORE