In China, Dell Clings Tightly to the Waning PC
The ailing consumer giant plans thousands of new retail shops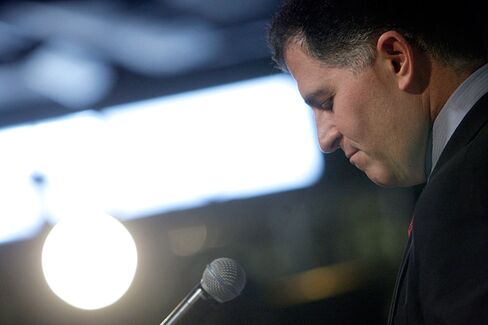 After a year spent trying to take his namesake company private, Michael Dell closed his leveraged buyout on Oct. 29. Now he and his partner, private equity group Silver Lake Partners, are focused on turnaround strategies for the struggling PC maker. Dell is pushing higher-margin servers and other equipment for corporate data centers, yet it's not downplaying PCs in every market. In China especially, Dell wants to build a franchise around them.
As it attempts to displace Lenovo as No. 1 in global PC sales, Dell plans to open about 2,000 new retail outlets—a 25 percent increase—in about 600 Chinese cities, says Peter Marrs, executive director and general manager of end-user computing for Asia. "It's hugely important for us" to gain sales in PCs, says Jeff Clarke, Dell's vice chairman and head of its PC and tablet business. "We had been retreating from lower-margin businesses," he says. "We stopped retreating."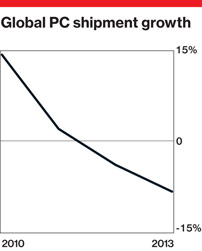 That doesn't change the reality of the PC market. Global shipments peaked in 2011 and will fall about 12 percent, to 322 million, from that height by yearend, Gartner says. On Nov. 5, PC maker Acer, the world's fourth-biggest, announced the departure of Chairman and Chief Executive Officer J.T. Wang after posting a record quarterly loss of NT$13.1 billion ($445 million). In Dell's last public earnings report in August, sales from its PC unit dipped by 5 percent, to $9.1 billion.
In China, where Lenovo sells one of every three computers, Dell's a distant No. 2, with 8.4 percent of the market last year, according to Gartner, and 10.1 percent in the quarter that ended in September. That's well ahead of rivals Hewlett-Packard and Asustek, tied for third place with about 6.8 percent each. Dell has benefited from "very good and strong relationships with public-sector and large enterprises," says Eileen He, a Gartner analyst in Shanghai.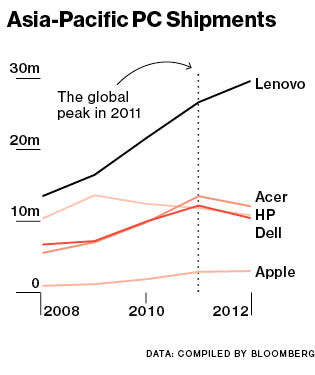 Chinese consumers are another matter. The country's PC shipments have dropped for six straight quarters, Gartner reports, and fell 16.7 percent in the July-to-September period from a year earlier. A slowing economy doesn't help: China is aiming for 7 percent annual gross domestic product gains, vs. the more than 9 percent common until last year. Also, 90 percent to 95 percent of consumers in China's wealthiest cities already have a PC, He says.
At Beijing's Bai Nao Hui electronics market, salespeople say Dell's most popular products are the roughly $500 XPS 12 and Inspiron 7000. Like Lenovo's cheaper ThinkPad Edge E431 Touch, both are lightweight laptops with touch-sensitive screens, effectively fusing the design of a PC with a tablet. Retailer Liu Chengfei says most of his PC sales are work-related, to businesspeople in their thirties and forties. "People tend to buy what their friends are buying," says Liu's colleague Bo Ying.
Dell says its edge lies in diversification: using PCs as a launchpad to sell customers on servers, data-center storage, and networking gear. Two of every three Dell business clients start as PC buyers, Clarke says. Although Lenovo has ramped up its focus on such products in the past year and a half, including by selling server bundles with storage company EMC, it's not as dominant in that field. "Lenovo is very focused on expanding our server and storage businesses in China," says company spokesman Brion Tingler. Bryan Ma, an associate vice president with researcher IDC, says that for Dell, using PCs as a launchpad "could play well."
Before it's here, it's on the Bloomberg Terminal.
LEARN MORE