Burger King's Big Mac Clone Becomes Even More of a Knockoff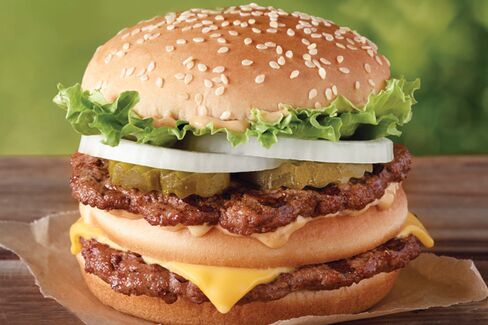 Sorry, Burger King, your "new" Big King sandwich isn't fooling anyone. It was first offered in 1997—and even then it wasn't really new, having been test-marketed under the Double Supreme moniker. When it returned in 2002, with some modifications, the sandwich was rechristened the King Supreme.
Now it's back again, and look: It's always basically been a Big Mac clone, and the latest tweaks make it even more like a Big Mac, down to the addition of a middle bun between the beef patties. The Big King includes three bun slices, two beef patties, cheese, lettuce, onions, and Thousand Island-style dressing. Doesn't that sound awfully familiar?
Burger King isn't shy about the comparison to McDonald's signature sandwich. Here's how the Big King was described back in 1997, as part of a $30 million ad campaign: "It's like a Big Mac but tastes better with 75 percent more beef," a brag based on Big King's 5.6-ounce offering vs. the 3.2 ounces of meat found in a Big Mac.
http://www.youtube.com/embed/29Qrckmtf0A
And Burger King has embraced the copycat nature of some of its other launches, such as its 99¢ Eggwich, or its $1 BK Breakfast Muffin Sandwich. "It's not that original but it's super affordable," according to one advertisement for the Sausage McMuffin with Egg imitator. It's enough to put McDowell's to shame.
http://www.youtube.com/embed/ZF86Rb-uFNE
McDonald's has tried to protect some of its ideas. It filed a lawsuit claiming Burger King's Big Kids Meal, introduced in 1999, used the same name as a McDonald's promotion. But the Golden Arches lost. Oh well, imitation is the sincerest form of flattery.
Before it's here, it's on the Bloomberg Terminal.
LEARN MORE