Don't Jump Onto Europe's Bandwagon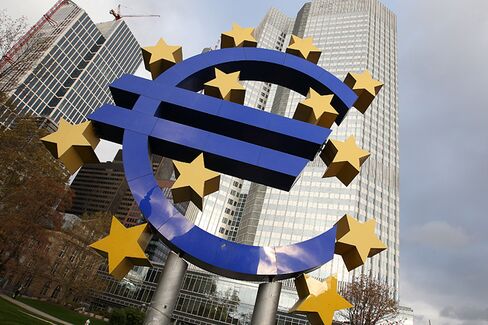 Recent stirrings of optimism about Europe's economy have been interrupted: New jobs figures and signs of a slide into deflation have ended some premature celebrations. The region's economic crisis isn't over. The danger of a relapse into recession is real.
The U.S. Federal Reserve and (belatedly) the Bank of Japan are buying assets on an enormous scale with the aim of lowering long-term interest rates. This quantitative easing has risks, but in both cases the evidence suggests it has worked. The European Central Bank, though, has largely refrained. It bought bonds at the height of the crisis but neutralized the effect of the transactions on the money supply. It also undertook a big program of short-term lending to banks, but that's winding down. No doubt there are legal and, above all, political impediments in the European Union to Fed-style asset purchases, but these must be overcome, and the ECB is best-placed to make the argument.
Furthermore, it's universally agreed that the euro area needs not just a single bank supervisor—which it now has in the form of the ECB—but also a single bank-resolution mechanism. Germany and like-minded countries, however, won't hear of bailing out failing banks or their financially stressed national governments. Without a single bank-resolution mechanism, the toxic link between distressed banks and distressed governments will remain. So long as that's true, recovery will be held back and the euro area's supposedly integrated capital market will be at risk of splintering into separate zones.
The need for more effective cooperation in Europe isn't confined to banking. The U.S. Department of the Treasury has complained that German economic policies are slowing Europe's recovery—arguing, in effect, that the euro area's members ought to set their economic policies with the interests of the wider euro area, not just their own, in mind. Avoiding deflation in the euro area calls for a bit more inflation in Germany than Germany would wish. If Berlin vetoes that and the euro area falls back into recession, Germany won't escape unscathed.
Before it's here, it's on the Bloomberg Terminal.
LEARN MORE