Leading Indicators in U.S. Increase More Than Projected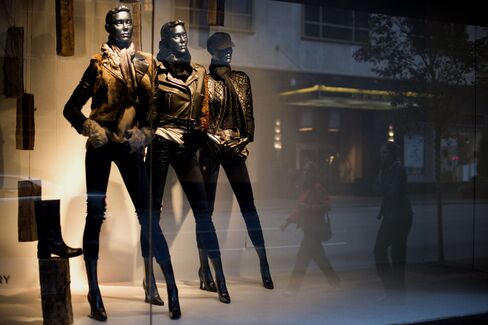 The index of U.S. leading indicators rose more than projected in September, signaling the world's largest economy was poised to strengthen heading into the partial government shutdown.
The Conference Board's gauge of the outlook for the next three to six months increased 0.7 percent for a second month, the New York-based group said today. The median forecast of economists surveyed by Bloomberg called for 0.6 percent gain.
Rising stock prices and easier credit are giving Americans the wherewithal to spend before the holiday-shopping season. While the government's partial closing in October discouraged businesses and consumers, the report indicates economic growth will accelerate early next year.
"The increase is consistent with moderate positive, yet subpar, growth over the next couple of quarters," said Sam Bullard, a senior economist at Wells Fargo Securities LLC in Charlotte, North Carolina, the best forecaster of the leading index over the past two years, according to data compiled by Bloomberg. "We're still working our way through fiscal issues and structural issues in the labor market."
Estimates of 50 economists in the Bloomberg survey ranged from increases of 0.2 percent to 0.8 percent.
Seven of the 10 indicators in the Conference Board's leading index contributed to the increase, led by a drop in jobless claims, a widening gap between short- and long-term interest rates and looser lending rules.
Consumer Outlook
"The economy was expanding modestly and possibly gaining momentum before the government shutdown," Conference Board economist Ken Goldstein said in a statement. "Beyond the immediate fallout of the shutdown, the biggest challenge is whether relatively weak consumer demand, pinned down by weak wage growth and low levels of confidence, will recover during the final stretch of 2013 and into 2014."
The gauge of coincident indicators, which tracks current economic activity, increased 0.2 percent in September following a 0.3 percent advance the previous month.
The coincident index covers payrolls, incomes, sales and production, measures used by the National Bureau of Economic Research to determine when U.S. recessions start and end.
Stocks climbed today, with the Standard & Poor's 500 Index poised for a record close, as investors awaited data this week on jobs and economic growth for clues on when the Federal Reserve will cut stimulus.
Shares Rise
The S&P 500 gained 3 percent in September and another 4.5 percent last month, indicating equities once again contributed to boosting the leading index.
As higher share prices help boost household wealth, looser credit rules are making it easier for consumers to borrow. American banks are making loans more readily available, easing lending policies to businesses as competition stiffens and relaxing standards on mortgages, according to results of a Fed loan-officer survey issued yesterday.
At the same time, the budget impasse in Congress weighed on consumer attitudes, with the Thomson Reuters/University of Michigan sentiment index falling to a 10-month low in October.
As households report feeling more skittish about the economy, some companies like Red Robin Gourmet Burgers Inc., based in Greenwood Village, Colorado, are grappling with the prospect of lighter traffic.
The outlook for casual dining "is fairly pessimistic in the near term with consumer confidence down and little expected improvement in employment, retail sales or discretionary spending in restaurants," Chief Financial Officer Stuart Brown said in a Nov. 5 earnings call.
Lagging Index
The Conference Board's gauge of lagging indicators increased 0.6 percent in September after a 0.3 percent rise in August.
Gross domestic product, the sum of all goods and services made in the U.S., probably expanded at a 2 percent annualized rate in the third quarter, down from a 2.5 growth rate in the previous three months, according to the median forecast of economists surveyed by Bloomberg before a Commerce Department report tomorrow.
After expanding at a similar pace this quarter, growth will accelerate to 2.6 percent in the first three months of 2014, according to the median estimate of 71 economists surveyed by Bloomberg on Oct. 31.
The Fed decided last week to continue stimulus at a pace of $85 billion in monthly bond-buying in a bid to spur the expansion. Fed policy makers said the economy's ability to keep moving forward in the face of fiscal cutbacks was testament to its "underlying strength."