Lay's New Chocolate-Covered Potato Chips: For Women, of Course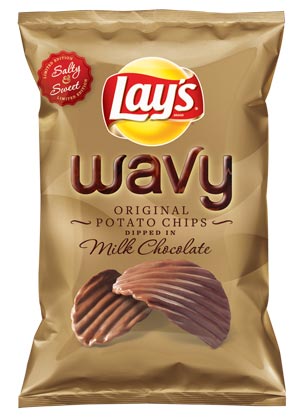 To the age-old question of "what do women want," Lay's thinks it has an answer: Chocolate-covered potato chips. This month, Lay's is rolling out milk chocolate-covered potato chips at Target stores. The chipmaker says the salty-sweet combo is tailor-made for young women, who apparently can't get enough of the stuff.
Jennifer Saenz, Lay's senior director of marketing, noted in an e-mail: "the increasing popularity of chocolate-covered snacks among our target audience, millennial women. … They are looking for those more indulgent, savory/sweet combinations."
The product's debut will officially be a trial run, but the product could become a permanent part of the Lay's arsenal if shoppers love them. As for other chocolate-covered chip combinations, "the possibilities could be endless," says Saenz.
Yes! Chocolate-coated kettle chips, sugar-free chocolate-covered baked chips, and Stax (a Pringle-like crisp). Lay's makes dips—why not a chocolate dip to fondue your own salty treats? Bring in the rest of the Frito-Lay family, and you could add Cracker Jack and Ruffles to the chocolate-covered medley. Frito-Lay also makes Doritos, Funyuns, and Cheetos, which perhaps don't lend themselves so quickly to a milky chocolate shell, but to each her chocolate-dipped own.
Until now, turning savory chips into chocolate crunch has been a smaller-batch endeavor. Utz and Herr's make them. They've been produced by candymakers such as Widman's (which calls them "chippers"), Sanders, and Asher's. Retailers Neiman Marcus and FTD also sell them. And fudge-covered chips are used in Ben & Jerry's Jimmy Fallon tribute flavor, Late Night Snack. Ladies, dig in.
Before it's here, it's on the Bloomberg Terminal.
LEARN MORE