Saving Kenya's Elephants With Drones
Conservationists in Kenya go high-tech to help battle poachers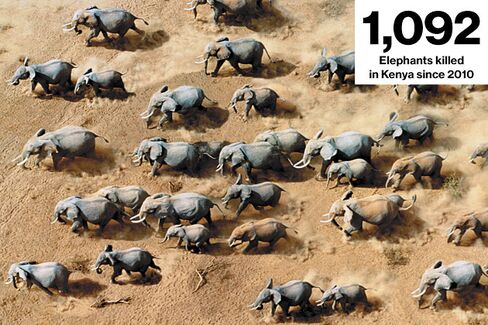 In the hills above the Maasai village of Aitong in Kenya, Marc Goss is watching an elephant funeral. He squints a few dozen yards through the bush at 10 grieving pachyderms surrounding the carcass of a fallen comrade speared in its back, its face unrecognizable after its trunk was hacked off and its ivory tusks removed. It's the third elephant Goss has found slaughtered in four days. "It's pretty grim," he says. "It'll be eaten by hyenas now."
Kenyan conservationists like Goss are facing what the United Nations Environment Programme calls the most serious poaching threat in a quarter century. Demand for illicit ivory in developing economies, including China and Thailand, has doubled since 2007, and elephant ivory sells for as much as $455 a pound in Hong Kong, according to UNEP. At least 232 of the almost 40,000 elephants in Kenya were killed during the first nine months of the year, and 384 were killed in 2012.
The country has only 2,800 park rangers, so Goss and others are turning to Google Earth and drone aircraft to track and protect the elephants. "Drones are basically the future of conservation," says James Hardy, the manager of the Mara North Conservancy, a 74,000-acre private wilderness tract where Goss heads the Mara Elephant Project. "A drone can do what 50 rangers can do."
Goss's team has put GPS tracking collars on 15 elephants throughout the reserve and can follow them online via Google Earth. If the animals stray into areas frequented by poachers—or nearby grazing land for cows that belong to the semi-nomadic Maasai tribe—Goss sends in one or more of his three drones. In his flatbed truck, he touches a button on his iPad 3 display labeled "take off," and the $300 Parrot AR.Drone takes flight. About 2.5 feet long and 1 foot wide, the unarmed spycraft has four rotors that can carry it high above the savanna. It can spot poachers and divert elephants, which are typically frightened by the quadcopter's buzzing rotors. "We realized very quickly that the elephants hated the sound of them," says Goss, 28. "I'm assuming that they think it's a swarm of bees."
Poachers aren't the only force threatening elephant survival. The country's human population has more than doubled in the past two decades, to about 43 million. "Kenya very soon will have to make some tough decisions on how to manage the elephant population, because they will be at high levels of human-elephant conflict," says Matthew Lewis, senior program officer of the World Wildlife Fund's African species conservation program. Given that wildlife helps attract $1 billion a year in tourism to Kenya, the nation's leading source of money from abroad, its Parliament is debating stiffer penalties for the slaughter of elephants and rhinos, including 15-year jail terms and fines of as much as 10 million Kenyan shillings ($117,000).
The government also has deployed a 121-member antipoaching team that includes paramilitary forces, which shoot armed hunters on sight. It's implanting microchips in rhino horns to track poachers and plans to acquire its own drones. In Zambia, conservationists are firing paintballs loaded with chili powder to deter elephants from entering poaching zones, and the Mara team intends to buy 10 more AR.Drones and modify them so it can launch the spicy powder at straying pachyderms.
Not all of the defensive aircraft are unmanned. Calvin Cottar, co-founder of Cottar's 1920s Safari Camp in Kenya, uses an €86,000 ($118,000) gyrocopter to scare neighboring Maasai cattle off the land he leases, so the elephants won't be shot by cattle tenders. But that has its limits, he says at lunch, after a member of the Kenya Wildlife Service tells him poachers have been hunting nearby at night. Even if it would scare off poachers, "I can't use the gyro at night," Cottar says. "So we'll probably resort to using these drones."
Before it's here, it's on the Bloomberg Terminal.
LEARN MORE