Over Christie's Loud Objections, New Jersey Set to Raise Its Minimum Wage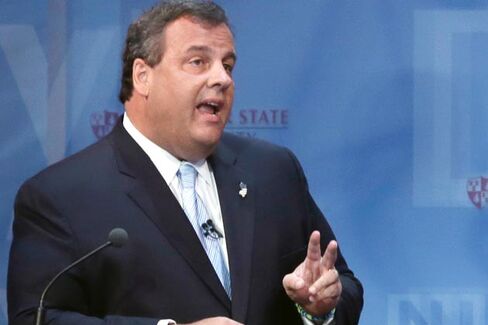 New Jersey Governor Chris Christie, with his typical delicacy, says it would be "stupid" and "truly ridiculous" to insert a minimum wage into the state's constitution. But a ballot question to do just that on next Tuesday's election ballots has the support of 65 percent (PDF) to 76 percent (PDF) of likely voters, according to polls.
Not only would the amendment raise the state's minimum wage in January to $8.25 an hour—a dollar higher than the federal minimum—but it would provide for annual cost-of-living increases after that. (Ballotpedia has the details.) There are really two issues here: Should the minimum wage be raised at all? And if so, is a constitutional amendment the right way to do it?
The answer to the second question is clearly "no." As Christie has gently pointed out, amending the state constitution is the wrong way to decide how much people should get paid. Democrats who control the legislature argue that the amendment route was a last resort after Christie vetoed their bill to raise the minimum wage.
A tougher issue is setting the right level for a minimum wage. Is $8.25 too high? California is raising its minimum to $10 an hour by 2016, so New Jersey's level isn't out of line. That doesn't make it right.
Free market types say any minimum wage raises unemployment by making it uneconomical for employers to hire unskilled people whose services aren't worth what they're required to receive. The ballot question is opposed by the New Jersey Business and Industry Association, the New Jersey Farm Bureau, the New Jersey Retail Merchants Association, and others.
Democrat Cory Booker, the Newark mayor newly elected to the U.S. Senate in a special election, favors the ballot question, as does Barbara Buono, Christie's Democratic opponent, who is almost to certain to lose in the race for governor. "Raise the Minimum Wage," a project of the National Employment Law Project, is predictably on the "yes" side. The group is also leading campaigns in Massachusetts, Maryland, South Dakota, Alaska, Illinois, Minnesota, Hawaii, and Idaho.
Economists who were once fairly united in regarding minimum wages as an unwelcome interference in labor markets are now divided. An additional New Jerseyan who has weighed in is Princeton University economist Paul Krugman, the Nobel laureate and New York Times columnist. In a February column, he said research has shown that modest increases in the minimum wage have "little if any negative effect" on employment.
According to the National Conference of State Legislatures:
• 18 states and Washington have minimum wages above the federal minimum wage
• 23 states and the U.S. Virgin Islands have minimum wages the same as the federal minimum wage of $7.25
• 4 states and Puerto Rico have minimum wages below the federal minimum wage; the federal minimum thus applies
• 5 states have not established a state minimum wage.
Before it's here, it's on the Bloomberg Terminal.
LEARN MORE