Marathon Training and a Full-Time Job? Step Right Up, Overachiever
How do you train for the marathon and keep your job?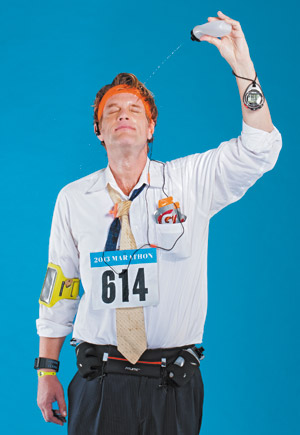 Mike Grollman is a marathoner. "I've done them all. It's a sickness," says the 45-year-old president of Bell-Lap Communications, an entertainment marketing company in Torrance, Calif. Grollman has competed in the Chicago Marathon at least 15 times; he's also run in London, New York, Boston, and Washington. When gearing up for a race, Grollman estimates he averages "65 to 70 miles per week." He fits them in while working 80 hours, including weekends. Plus he has a wife and two sons who expect to see him occasionally. How does he fit it all in? "I don't," he says. "I end up apologizing a lot."
There are 850 of the 26.22-mile races in the U.S., up from 300 in 2000. About 2 million people sign up for one each year in the U.S., and 487,000 of those runners crossed the finish line in 2012. (And yes, they're all posting about it on your Facebook wall.) The list of chief executive officers who compete is long—Stephen Burke of NBCUniversal, Klaus Kleinfeld of Alcoa, and Larry Zimpleman of Principal Financial Group, among others—and their numbers are growing.
According to Runner's World magazine, a first-time marathoner should train at least five days a week, posting weekly mileage of up to 42 miles. Hal Higdon, an 82-year-old fitness guru—he finished fifth in the 1964 Boston Marathon—says it's all about finding the right program. Twenty years ago, he designed one for his son, Kevin, an accountant at Peat Marwick International (now KPMG) who wanted to train "while working for a demanding firm." Higdon's corporate-worker-friendly program became a best-selling book, Marathon: The Ultimate Training Guide. It's still used by many professionals, including Illinois Bank of America President Tim Maloney, who Higdon says followed the program while training for this year's race in Chicago. The guide schedules every mile, right down to the walking breaks, without much wiggle room. "I've had people ask, 'Can I do 5 miles in the morning and 5 during lunch?'" Higdon says. "My response is always, 'Well sure, if you can find a marathon that lets you run 13 miles in the morning and 13 in the afternoon.' "
The additional hours and effort may sound grueling, but Charlie Brown, a sports psychologist from Charlotte, says they rarely faze an overachiever. Instead, the work can lead to even greater productivity. "Type As are used to doing hard work and being uncomfortable," he says. Problems arise, he says, when runners forget things such as sleeping or proper nutrition.
There are legitimate medical concerns for someone with an already stressful day job. A study published last November by the journal Heart said that "running too fast, too far, and for too many years may speed one's progress towards the finishing line of life." Yet the New England Journal of Medicine reported in 2012 that over the preceding 10 years, of the roughly 11 million people who ran long-distance races, only 59 suffered cardiac arrests—about 1 in every 259,000 runners. You have a better chance of dying at the office (1 in 48,000) than dropping dead during a marathon.
Derrick Hesser has competed in 10 marathons but hasn't run one since 2011, mainly because he doesn't have the time. He heads his own branding agency, Connascent, and he's also a father of four. Hesser says he misses the physical demands of training. "Since I stopped running marathons, I'm more sluggish. I'm still waking up at 4 a.m., but now I'm getting on a plane to fly 400 miles to a meeting." He's thinking about training for another one soon. "I need my energy back."
Before it's here, it's on the Bloomberg Terminal.
LEARN MORE