Danske Cuts Investor Return Goal as New CEO Lowers Outlook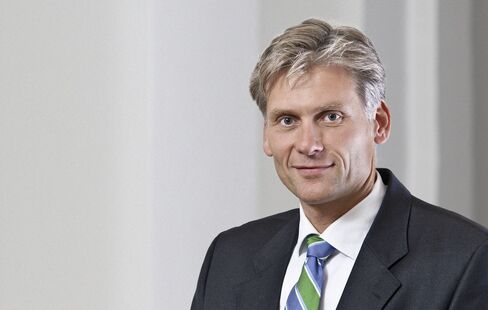 Danske Bank A/S cut its profit outlook and lowered its target for how much it will return to investors as Chief Executive Officer Thomas Borgen delivers his first set of results since the board of Denmark's biggest bank fired his predecessor last month.
The bank cut its outlook for 2013 and now sees profit after tax of 6 billion kroner ($1.1 billion) to 8 billion kroner, compared with a previous goal of 6.5 billion kroner to 9 billion kroner, the Copenhagen-based bank said in a statement today. The bank cut its 2015 return-on-equity target to 9 percent from a previous goal of more than 12 percent.
"While our third-quarter result showed some progress, we continue to operate in a challenging environment," Borgen said in the statement. "We need to pay more attention to our customers, to simplify our operations and to become much more efficient."
Danske has lagged behind its Swedish competitors in delivering shareholder returns, and Borgen said in an interview earlier this month the lender's performance over the past half decade "has not been satisfactory." Eivind Kolding, who was ousted as CEO in September by Chairman Ole Andersen for lacking financial expertise, was given just 19 months to turn the bank around.
Shareholder Rewards
Danske shares fell as much as 3.3 percent in Copenhagen, before erasing the losses to rise 1.4 percent to 127.50 kroner as of 10:32 a.m. local time. Before today, the stock had gained 31 percent this year compared with a 17 percent advance in the Bloomberg Europe Banks and Financial Services Index.
Danske delivered investors a return on equity of 4.3 percent last quarter, up from 4.1 percent a year earlier. The bank will target 12 percent over the "longer term," Borgen said.
Net income rose to 1.54 billion kroner in the three months through September, from 1.3 billion kroner a year earlier. Analysts surveyed by Bloomberg had foreseen a 2.14 billion-krone profit.
"We will have a firmer focus on costs," Borgen said. The bank has set an additional target of 1 billion kroner in annual cost savings "with full effect" in 2014, he said.
Management Upheaval
Danske "will achieve the cost savings by making internal functions leaner and more efficient and by reducing external expenses. This will entail further reductions in the number of employees in non-customer-facing areas, less hiring in coming quarters and less use of consultancy services," Borgen said.
Danske's management upheaval follows a series of setbacks starting with the lender's expansion into Ireland at the height of the nation's property bubble in 2005. The bank's international ambitions, under then CEO Peter Straarup, put the entire Danish economy at risk, according to a September report by a government-appointed committee investigating the causes of Denmark's financial crisis.
The bank said today it will discontinue personal and business banking services in Ireland and will instead use its operations there to focus on corporate and institutional customers. The changes won't affect Danske's business in Northern Ireland, it said.
The cost of the restructuring will be about 250 million kroner to 300 million kroner during the next five quarters, Danske said.
Communications Slammed
"We also see a risk of additional impairments in the coming five quarters of up to 500 million kroner above our previous guidance," the bank said. "We therefore currently estimate a risk of impairments on this portfolio over the coming five quarters of up to 2 billion kroner."
Under Kolding, who headed the container shipping unit of A.P. Moeller-Maersk A/S before becoming CEO at Danske, the bank lost customers after introducing a strategy that rewarded clients with the most business there. The plan, and an advertising campaign to promote it, was slammed by local media and Danske in June fired its head of communications, Eva Hald.
Borgen has said he wants to repair the damage done to Danske's image and try to win back customers in an effort to raise shareholder returns. Danske Bank has lost 94,000 customers in the first nine months of 2013, spokesman Kenni Leth said by phone.
"We are confident that the best way to meet our ambition of delivering shareholder value is through strong customer focus and attention," Danske said today. The bank plans to "simplify" its operations and "remove administrative tasks" to draw in more customers.
"Altogether, these efforts will enable us to significantly enhance the customer experience and improve profitability at the same time," Danske said.
Before it's here, it's on the Bloomberg Terminal.
LEARN MORE