A Texas Oil Bubble Could Pop Due to Low Prices
Drillers' $150 billion investment may not lead to big payoffs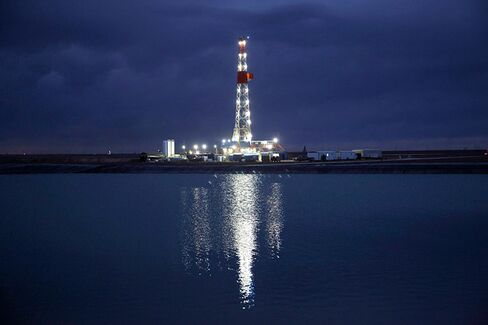 Bryan Sheffield, a third-generation oil wildcatter in Texas' Permian Basin, knows what he'll do if crude drops to $80 a barrel: shut down half his drilling rigs and go on a takeover hunt for weaker rivals. He's among producers who have invested $150 billion in the Permian since 2010, seeking a piece of a shale-oil trove estimated to be valued at as much as $5 trillion. As the money pours in, risks of a bust are mounting; some analysts forecast that crude is heading down to $70 a barrel next year.
The Permian lies beneath Texas and New Mexico and sprawls over 86,000 square miles, an area almost twice the size of Pennsylvania. While traditional wells have been drilled there since the 1920s, producers are giddy over the potential of the region's vast overlapping layers of oil-soaked shale rock. Pioneer Natural Resources, an exploration and production company, estimates the remaining yield at the equivalent of 50 billion barrels, more than any field on earth except Saudi Arabia's Ghawar. The varied geology, though, makes it costly to explore and develop. "That's the double-edged sword," says Benjamin Shattuck, an analyst at Wood Mackenzie in Houston. Multiple oil zones layered one atop another provide ample potential for riches, "but you also have to be a knowledgeable and good operator in order to drill economic wells out there."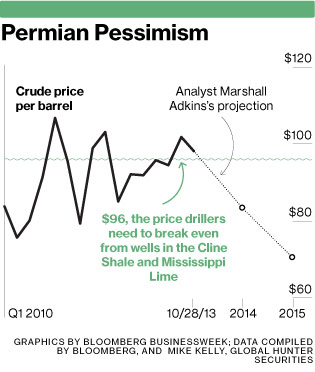 Energy producers on average need oil prices of about $96 a barrel to break even on wells drilled in Permian layers known as the Cline Shale and Mississippi Lime, says Mike Kelly, an analyst at Global Hunter Securities. Other areas of the Permian need a price of just $70 to $74. That compares with average break-even prices of about $78 a barrel in the Eagle Ford Shale a few hundred miles east of the Permian and $84 in the Bakken of North Dakota.
The benchmark U.S. crude, West Texas Intermediate, dipped 4.8 percent in October, touching a four-month low of $95.95 a barrel on Oct. 24 as rising U.S. production bloated stockpiles. Brent crude, the benchmark for two-thirds of the world's oil, is averaging $108.59 this year and probably will fall to the $70-to-$80 range, say Fadel Gheit, an analyst at Oppenheimer, and Marshall Adkins of Raymond James & Associates.
Sheffield started Parsley Energy with drilling leases he bought during the oil crash of 2008, and he's focusing on traditional vertical wells in shallower Permian fields. He estimates he'll spend about $8 million on the company's first horizontal well to tap one of the shale layers later this year. Oil at $80 would mean he drills only the prospects most likely to deliver the biggest, fastest gushers. The most efficient operators can manage on lower prices, so if oil falls an additional $20, it will quickly weed out the higher-cost producers. "If you look down the road, there are going to be consolidation opportunities," says Travis Stice, chief executive officer of Diamondback Energy, a Midland (Tex.)-based Permian explorer.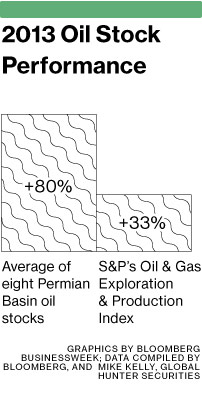 For now, Permian drillers are flying high, outperforming the rest of the North American oil industry. An index of Permian prospectors climbed 80 percent this year as of Oct. 25, more than double the 33 percent gain for the broader Standard & Poor's Oil & Gas Exploration & Production Index of 72 companies. Diamondback's share price has tripled since the company went public a year ago. Athlon Energy, a Fort Worth-based Permian explorer backed by private equity firm Apollo Global Management, has soared 64 percent in the 12 weeks since its initial public offering. "The Permian is all the rage on Wall Street," says Global Hunter's Kelly.
The attraction lies in an unusual geological feature known as "stacked plays," horizontal bands of oil- and gas-bearing stones laid down tens of millions of years ago when much of the U.S. Southwest was an inland sea. Apache has identified at least 35 potential zones in its Permian holdings, and has tested about 20 so far, says John Polasek, the company's exploration and new ventures manager for the Permian region.
There will be more pressure to make every well a gusher if prices continue to fall. Drilling a horizontal well in the layer known as the Wolfcamp costs $7 million to $7.5 million if everything goes according to plan, says Diamondback's Stice. One "bad day," though, he says, can send that cost skyrocketing to $12 million or more. Wildcatters squeezed by slumping oil prices may lose their nerve and look to get out. "One of the downsides is you're focusing a significant amount of capital in one hole, and there's a huge amount of mechanical risk," says Kyle Hammond, CEO of FireWheel Energy. "That's terrifying to a small independent."
Before it's here, it's on the Bloomberg Terminal.
LEARN MORE