A Bond Whiz Teams With a Nobel Winner Who Warns About Bubbles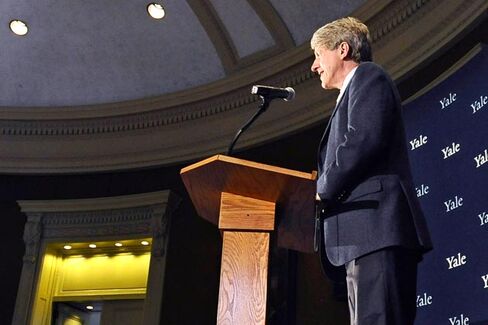 These should be boffo times to be a fund manager. But while the market is at an all-time high and investor enthusiasm is readying an arena-storming comeback tour, cash isn't going into active management nearly as much as it is sluicing into cut-rate, passive exchange-traded funds and index funds.
So what's an enterprising, fee-seeking alpha male to do? Join forces with a fresh Nobel Prize winner.
Jeffrey Gundlach, the unabashedly bombastic bond manager whose DoubleLine Capital is one of the fastest-growing mutual fund startups in history, is joining with Yale finance professor Robert Shiller to launch the DoubleLine Shiller Enhanced CAPE Fund. The offering marries Gundlach's active fixed-income management style with a stock strategy based on Shiller's value investing guidelines.
"The combination of DoubleLine and Robert Shiller in one investment strategy marks an innovative new opportunity for investors, one based on discipline and value," said Gundlach in a release. "I am very pleased with today's launch," added Shiller, who shares this year's Nobel Prize in economics for his work on behavioral finance and asset bubbles. "The Fund allows investors to access the Shiller Barclays CAPE US Sector Index in mutual fund format with DoubleLine, combining two complementary, value-orientated approaches across both equity and fixed income markets."
Such tag-team-heavyweight thinking is an elaborate alternative to Shiller and Gundlach just exhorting investors to bolt a market that is up 25 percent this year and 188 percent since March of 2009. Alas, the good prof, author of the year-2000 bestseller Irrational Exuberance, has been out there highlighting how U.S. shares are most-expensive, relative to earnings, in more than five years. Shiller's cyclically adjusted price-earnings (CAPE) ratio, which compares the Standard & Poor's 500-stock index with companies' average profits during the past 10 years, closed September at just under 24, its highest reading since January 2008—just as stocks were about to have their worst year in a generation. "The stock market is rather highly priced," he said earlier this month. "I worry that it might correct down."
The CAPE ratio hit 27.5 in May 2007—just as subprime was commencing its meltdown—and 44 in December 1999, when clicks-per-eyeballs mattered far more than P/E.
However, "I don't think one should view it with alarm," Shiller said about September's CAPE high. "One could well—and probably should, in a diversified portfolio—invest in stocks."
In fact, he might have added, I have just the fund for you.
Before it's here, it's on the Bloomberg Terminal.
LEARN MORE