Rabobank Rate Riggers See Bigger Crooks Than Themselves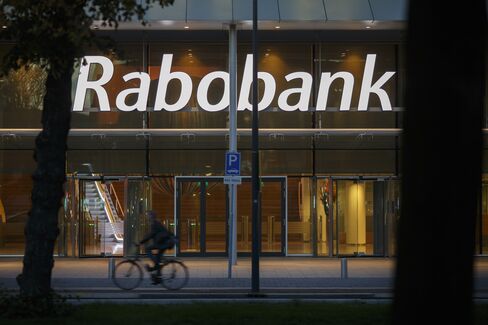 Internal Rabobank Groep e-mails cited in the U.S. Justice Department's case against the bank show a culture where fixing benchmark interest rates had become an easygoing routine, one in which employees joked about rate rigging while telling each other they weren't really that bad.
Exchanges among traders, rate submitters and a money manager in London were laced with jokes and requests to raise or lower rates depending upon the traders' positions, according to a statement of facts filed yesterday in federal court in Hartford, Connecticut, as part of a deferred prosecution deal reached with Rabobank.
"Don't worry mate -- there's bigger crooks in the market than us guys!" the Rabobank yen Libor submitter, identified as Submitter-4 in the filing, said in a Sept. 21, 2007, e-mail, after agreeing to increase its submission to the one-month yen rate by seven basis points from the previous day. Another mid-level manager joked to a colleague seeking help rigging rates: "I am fast turning into your Libor bitch!!!"
Rabobank, the co-operative formed in 1898 to lend to Dutch farmers, was fined 774 million euros ($1.1 billion) for its involvement in rigging benchmark interest rates, the second-largest in the global investigation.
Artificially Low
Manipulation of Libor can harm consumers, counterparties and financial markets because mortgages, student loans, derivatives and other financial products rely on it as a reference rate, the Justice Department has said.
U.S. attorneys general are reviewing whether state and local governments lost billions of dollars on interest-rate swaps because the manipulation kept the benchmark artificially low. Those swaps are used to hedge interest-rate risk, with governments paying a fixed rate in exchange for variable payments based on Libor.
Investments in floating-rate securities tied to Libor would also have paid less in interest if the rate was suppressed. Local authorities, banks and financial institutions, pension funds and other investors may be affected. More than $300 trillion of loans, financial products and contracts are linked to Libor.
Rabobank admitted that for at least five years beginning in 2005, benchmark submitters in London and Utrecht, Netherlands, would routinely take requests from traders seeking to fix the rate of Euribor and Libor for the U.S. dollar, yen and pound sterling, according to the statement of facts.
Mid-Level Managers
Mid-level managers at the bank, such as Rabobank's global head of liquidity and finance in London, were aware of and participated in the internal manipulation of Libor submissions, according to the statement of facts.
"We were obviously struck by the extent of the misconduct," Mythili Raman, acting assistant attorney general of the Justice Department's criminal division, said in an interview.
She said the investigation found both internal and external agreements to manipulate rates and that the rate setter allowed swaps traders to have significant influence over the Libor setting process.
"What we've found across a number of our investigations whether it be in this case or others is that there is misconduct that banks need to be paying more attention to," Raman said. "They should be paying attention to the fact that we're paying attention and there's more to come."
Investigating Individuals
Raman said the department is still investigating individuals, who weren't charged in yesterday's actions.
The documents also show how specific submissions made on certain days by Rabobank influenced global interest rates by two to three basis points.
One Rabobank trader told a yen submitter that people were talking with each other to change the rates. The submitter said: "yes deffinite manipulation - always is tho to be honest mate … i always used to ask if anyone needed a favour and vise versa … a little unethical but always helps to have friends in mrkt."
On July 28, 2006, a Rabobank trader and rate submitter discussed moving one-month rates higher. Within 20 minutes, the submitter contacted a trader at another bank and said: "morning skipper will be setting an obscenely high lm again today," according to the U.S. filing.
'Poor Customers'
The other bank's trader responded, "(K)...oh dear..my poor customers....hehehe!! manual input libors again today then!!!!"
The rate submissions by both Rabobank and the other bank, which isn't named in the documents, moved up one basis point that day, from 0.37 to 0.38. Those submissions were the second highest of the contributor panel that day, according to the statement of facts.
Rabobank, based in Utrecht, was fined by the U.S. Commodity Futures Trading Commission, the Justice Department, the U.K. Financial Conduct Authority and the Dutch public prosecutor's office, the regulators said in statements yesterday. The fine brings the total settlements in the rate-rigging probe to $3.7 billion.
Rabobank entered into an agreement with the Justice Department to accept responsibility for manipulation of Libor and Euribor, the U.S. said. As part of that agreement, a wire fraud charge was filed against Rabobank which will be dismissed after two years as long as the bank cooperates with the terms of the deal.
Agreement Accepted
During a short hearing yesterday in Hartford, U.S. District Judge Alvin Thompson accepted the agreement, under which Rabobank waived an indictment and entered a not guilty plea to the fraud charge under a deferred-prosecution agreement.
Alexander Berlin, an attorney in the Justice Department's Fraud Section, said the charge carries a maximum fine of $1 million and, for individuals, a prison term of as long as 30 years. Andrew Sherman, Rabobank's general counsel and managing director, signed the agreement on the bank's behalf in open court.
Thompson scheduled a phone conference for one year from yesterday to ensure Rabobank is abiding by the terms of the deal.
The fines make Rabobank the fifth firm penalized over manipulation of the London interbank offered rate. Global investigations into banks' attempts to manipulate the benchmarks for profit have led to fines and settlements for Barclays Plc, Royal Bank of Scotland Group Plc, UBS AG and ICAP Plc.
Thirty current and former employees of the Dutch lender were involved in rate rigging, Rabobank executive board member Sipko Schat said yesterday. Five of them were fired, he said.
"We were startled by the amounts, which were higher than we had anticipated, taking into account regulators found no involvement from the bank's management board or senior managers," Schat said. "Regulators also hold against us that our internal organization wasn't set up adequately, with Libor policies lacking."