Iceland Pushes to Become Arctic Hub After Scrapping EU Accession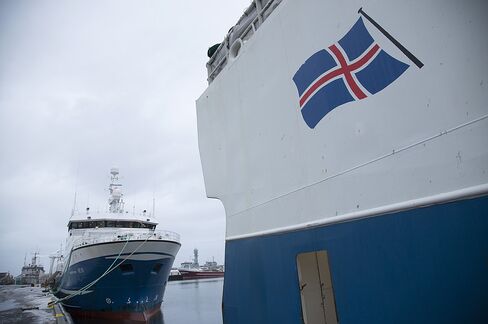 Iceland wants to turn itself into a hub for business in the Arctic and strike more trade accords on its own after scrapping talks to join the European Union, its foreign minister said.
"The focus of Iceland's foreign policy is on the Arctic," Gunnar Bragi Sveinsson said in an Oct. 25 interview in Reykjavik. The island will work for deeper cooperation within the Arctic Council and seek to provide a base in the region to help support trade with China, Singapore and South Korea, among others, he said.
The Arctic is becoming a magnet for countries seeking to benefit from new shipping routes created by rapidly melting ice in a development that will make the trip from Europe to Asia shorter and cheaper. The softening ice could also bring within reach the 30 percent of the world's undiscovered natural gas reserves and 13 percent of its undiscovered oil that lie under the Arctic Ocean floor, the U.S. Geological Survey estimates.
The eight-member Arctic Council, which was founded in 1996, in May this year granted observer status to China, India and Japan, among other countries. Members include the Scandinavian nations, Russia, the U.S., Canada and indigenous groups.
Iceland is also considering opening a shipping port at Finnafjordur, on the island's northeastern coast, which may be operated by Bremenports GmbH & Co. KG. The facility would be able to service companies using the northern sea route as well as oil explorers.
Own Terms
In April, Iceland became the first European country to sign a bilateral free trade agreement with China. The accord provides the island with the opportunity to sell its expertise in geothermal energy to the world's second-largest economy. That deal followed a 66 billion kronur ($550 million) currency swap agreement with China in 2010, which was renewed in September.
The swap contract has helped Iceland obtain foreign currency as it struggles to exit capital controls put in place after its economic collapse in 2008. The deal came a year after the country began EU membership talks in 2009.
Iceland originally sought to enter the 28-nation bloc after the collapse of its biggest banks pushed the island's economy into its worst recession in six decades and left it reliant on an International Monetary Fund-led bailout.
EU Snub
After exiting the IMF program, and as the economy improved, Icelanders earlier this year voted in a coalition government that has rejected continued talks with the EU.
The new administration has now decided that a referendum will be needed to move ahead with the EU accession process, though no date has been set. President Olafur Grimsson has said Iceland's relationship with the EU worsened during the economic crisis, in part amid a dispute over bailing out Dutch and British depositors in a failed Icelandic bank.
"I hope Iceland will never join the EU," Sveinsson said. "It's impossible to say what will happen in 10 years or 20 years, but in my opinion the EU is moving in a direction that should make it less desirable for Iceland to join. There's greater centralization, power is being shifted from the sovereigns to unelected bureaucrats."
Instead, Iceland is using its bilateral ties with China and others to help boost trade. The country will also seek to build closer links to Canada and the U.S., according to Sveinsson. The cooperation will include "defense issues," he said.
Chinese Billionaire
The new government, which ousted a Social Democrat-led coalition in April, has also said it will review a decision by the previous administration to block a property development plan by Chinese billionaire Huang Nubo.
"It's very important for us to have a free trade agreement with China," said Sveinsson. "The Chinese are interested in Iceland and the Arctic and naturally Iceland should utilize that interest, just like Iceland utilizes that interest among other nations. Hopefully, Iceland's relationship with China will grow stronger. Of course, that will have to be on our terms."
Before it's here, it's on the Bloomberg Terminal.
LEARN MORE