As He Zigzags on Taxes, Hollande Backs Himself Into a Corner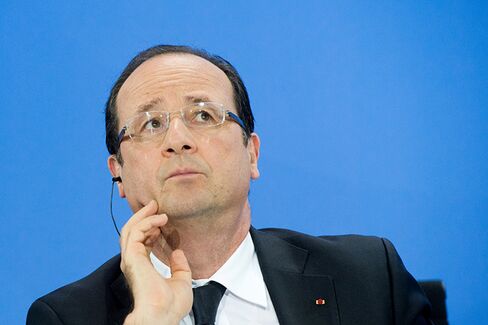 Less than 18 months into his five-year term, French President François Hollande faces a widening tax revolt that could severely limit his ability to govern.
Following violent protests in Britany, the government confirmed on Tuesday that it would suspend collection of a planned levy on trucks carrying agricultural goods. It's only the latest in a series of backtracks on unpopular taxes that Hollande had introduced in an effort to narrow France's budget deficit.
Over the weekend, he abandoned plans for a retroactive tax on savings accounts that had drawn sharp criticism from within his own party. Earlier, he shelved plans to tax businesses' gross operating profits, and to raise taxes on capital gains generated by the sale of companies. For now, Hollande is sticking with a planned 75 percent income tax on incomes over €1 million ($1.38 million), despite a planned strike by the country's soccer clubs.
The zigzagging on taxes, along with persistently high unemployment and sluggish growth, has sent Hollande's popularity plummeting to 26 per cent, the lowest rating for any French President in modern times. "Criticisms are raining down from all sides, including from the Socialist Party," Bruno Cavalier, head of macroeconomic analysis at the Oddo Securities brokerage, wrote in a note to clients on Tuesday.
The big risk for Hollande is that his stumbles have ignited a populist movement that will effectively block him from taking steps to reduce budget deficits and control France's burgeoning debt, which now stands at 93.5 percent of gross domestic product.
Support for the far-right National Front (FN) has surged over the past few months, with roughly one-fourth of voters saying they'll support FN candidates in municipal elections and in European parliamentary elections during 2014. The center-right UMP party of former President Nicolas Sarkozy now polls in second place, with the Socialists third.
As a member of the euro currency zone, France is under orders to bring its budget deficit below 3 percent of GDP by 2015, down from an expected 4.1 percent this year. Until now, Hollande's efforts to reach that goal have relied mostly on raising taxes. His 2014 budget, though, envisions deep cuts in government spending. That puts him on a collision course with the FN, whose economic program is in many respects more leftist than that of the Socialists. FN leader Marine Le Pen has said that slashing government spending is "folly."
It's true that Hollande's Socialists have a parliamentary majority. But as the recent tax protests have made clear, he can't always count on their backing for unpopular measures. "Even Hollande's own supporters question if he's up to the job," Bruno Jeanbart, a director of Paris-based pollster OpinionWay, told Bloomberg News.
Growing anti-tax sentiment also could make it harder for the government to collect levies already on the books. "Tax uncertainty is greater than ever, and actions of tax resistance/avoidance, often anecdotal, are multiplying," wrote Cavalier of Oddo Securities. "Despite France's solid political institutions, we are in the presence of an unhealthy and worrying situation."
Before it's here, it's on the Bloomberg Terminal.
LEARN MORE