The $100 Candle. Does That Smell Right to You?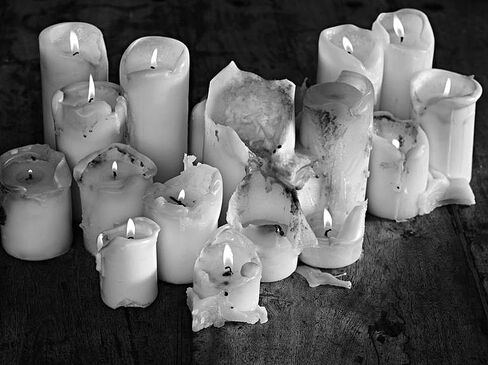 No one needs a scented candle. It's not a vital organ.
But there are worse things to do to a room than fill it with a delicate, inviting smell. Most candles smell great, and there are enough options out there for everyone. So it comes down to cost. Scenting your room can get deliciously expensive, fast.
A standard candle from Dyptique costs $60; from Cire Trudon , $85. Bond No. 9 's candles begin at $98. (That's candles, not sandals.) Lighting one of these can feel like setting money on fire. A reasonable consumer could ask: What exactly am I paying for?
Loot spoke with Frederick Bouchardy, president of Joya , a company in Brooklyn that manufactures its own line of candles, as well as candles for companies like Barneys, Malin + Goetz, and Escada. Joya has just made a 500-pound, $800 candle for Harrods.
"If you're looking at Dyptique or Trudon versus a candle from Target, the major difference is in the raw materials," says Bouchardy. He says high-end candles will use vegetable oils and bases, domestic soy and beeswax, which is associated with the very high labor costs of its cultivation.
Another price factor is the scent itself. "We're using fragrance oils that are effectively perfumes," he explains. "They're complex, multi-note oils." Compare a scent formula with two pages of ingredients, he says, to a less expensive one with stock aroma oils. "We produce a candle for a brand called Rodin which uses a jasmine absolute. The raw cost of the oil, per candle, costs more than candles retail for at Target," he says.
Then there's labor. "At most the production is semi-automatic," says Bouchardy. "There's always human quality control involved -- there's not some robot doing all of the dipping. Labor is a huge cost."

All of that is important, certainly, but what's the difference between a $45 candle and a $90 candle?
"Once you get to the $45 price range," Bouchardy says, "you're already in a place where you should expect something good. I would imagine that the difference in price between $45 and $90 candles comes down to a difference in size and their packaging elements. I don't mean packaging as something that would fool you. I mean that candles are not an essential product. The packaging is very important, because the whole experience has to be a complete and beautiful thing."
Beautiful. One waxes aromatic. But how can you relax while your Dyptique is burning down at $1.20 an hour, your Trudon melting away at $1.70 an hour or your Bond No. 9 self-immolating at $1.96 an hour?
That assumes the candle lasts 50 hours. To get more bang for your wick, Bouchardy suggests trimming it after each use to make for a smaller flame, allowing an average-size candle to last as long as 60 hours. Burns better. Bankrupts slower.
James Tarmy reports on arts and culture for Bloomberg Muse, the arts and leisure section of Bloomberg News.