Men's Wearhouse Courts Wealthier Customers, Feet First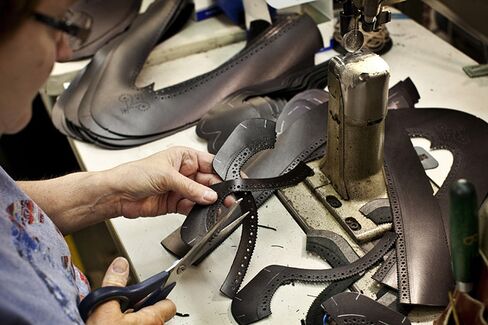 Men's Wearhouse is weighing a bid for Allen Edmonds, marking perhaps the first time the companies have been mentioned in the same sentence. Men's Wearhouse has built a $2.1 billion business by selling decent suits at relatively cheap prices and renting tuxedos to groomsmen and prom-bound teenagers.
There's nothing cheap or temporary about Allen Edmonds, which has been making shoes since 1922 in Port Washington, Wis., north of Milwaukee. On Sundays, its workers root for the Packers; on Mondays, they cut leather by hand and stitch together footwear on decades-old sewing machines. They smear the sole of each shoe with heated cork that will eventually mold to an individual's foot. Prices range from $115 (Baseball Stitched Casual Men's Boat Shoes) to $695 (Dalton Cordovan Boots); its best-seller is in the middle (Fifth Avenue Cap-Toe Oxford: $345).
Allen Edmonds is not the most fashionable company nor the most expensive, but it has long used its high-quality U.S. manufacturing as a selling point. A string of U.S. presidents (Reagan, Clinton, Bush I & II) wore Allen Edmonds on inauguration day; when Obama chose what appeared to be shoes made by Cole Haan, a disappointed Allen Edmonds chief executive officer pointed out that they "would not have been made in the United States."
Men's Wearhouse does a lot of things well, but "high-end" and "U.S. manufacturing" traditionally have not been among them. Last year 82 percent of its merchandise came from Asia. Another 5 percent was shipped from Mexico. Its current line of shoes includes Florsheim's (Highlands Navy Suede Wing Tip: $125), Rockport's ( Burgundy Bike Toe Lace-Ups: $149), Bostonian's (Barbour Brown Leather Boot: $99), and similar fare; now the store is running a "Buy 1, Get 1 50% Off" promotion. In short, Men's Wearhouse buying Allen Edmonds would be a bit like someone in decent Dad jeans (Lucky Distressed Vintage: $99) snapping up a high-end blazer (Brooks Brothers Fitzgerald Fit: $798).
That's part of the problem. At 40, Men's Wearhouse—like a lot of middle-aged dudes—feels a little shlumpy. The company has been stocking up slimmer suits more in line with fashion trends. This summer it made its first move to a slightly more upscale inventory by buying Joseph Abboud ($98 million). The goal: being considered when a customer is upgrading his wardrobe, not just starting one.
In other words, Men's Wearhouse might not care if the shoe fits as long as Allen Edmonds attracts more affluent buyers. And considering that Allen Edmonds only sells to relatively high-end retail partners like Nordstrom, buying the company may be the only way for Men's Wearhouse to get its hands on the shoes. It would also inherit the shoemaker's 1,000 workers, 46 retail stores, a projected $140 million in annual sales, and a new line of clothing.
Will the sale go through? Well, Allen Edmonds isn't controlled by Old Man Edmonds—or his great-great grandson. It's owned by Goldner Hawn Johnson Morrison, a Minneapolis-based private equity firm, and all those battered old sewing machines and concerns about "brand equity" aren't likely to stand in the way of a lucrative offer.
Before it's here, it's on the Bloomberg Terminal.
LEARN MORE