Icahn Tries to Score With Dinner and a Website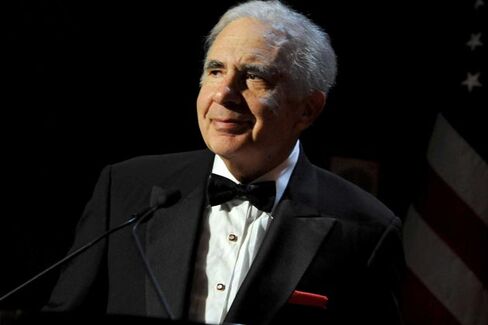 David Einhorn tried a lawsuit. Carl Icahn is going with dinner and a public courtship.
In an effort to boost the stock price of Apple, the 77-year-old billionaire activist investor published an open letter to Chief Executive Officer Tim Cook, urging him to use debt or Apple's cash to buy back $150 billion of Apple shares. Even after a recent rally, the stock sits 24 percent below its all-time high on Sept. 19, 2012.
"We want to be very clear that we could not be more supportive of you, the existing management team, the culture at Apple and the innovative spirit it engenders," Icahn wrote. He continued: "Our criticism relates to one thing only: the size and timeframe of Apple's buyback program. It is obvious to us that it should be much bigger and immediate."
Icahn argues that if Apple does his bidding, the stock will gain an immediate 33 percent and an eventual 140 percent. He previously made the case to Cook at a dinner at his New York apartment Sept. 30.
Icahn's respectful approach to the world's largest company by market cap stands in contrast to that of Einhorn, the founder of hedge fund Greenlight Capital, who sued Apple on Feb. 7 as part of a campaign to make Apple issue preferred stock. At the time, Cook called the suit "bizarre" and a "silly sideshow." (I wrote about Einhorn's struggle to pump up Apple in a March cover story.)
Icahn's letter was posted to a new website, called Shareholders' Square Table, which features a political cartoon–style illustration of righteous medieval peasants storming an opulent corporate castle, next to a "pauper's graveyard" of shareholders and employees. (Uh, maybe just click to view it yourself.)
Icahn has kept the public apprised of his moves not just through the usual SEC filings but also on Twitter. Since joining the service in June, Icahn has used it to blast out his thoughts on Dell, Netflix, nemesis hedge funder Bill Ackman, and other topics to more than 100,000 followers.
Fellow oldster billionaire tweeter Bill Gross, the co-founder of Pimco, criticized Icahn's publicity-seeking today on the same medium. "Icahn should leave #Apple alone & spend more time like Bill Gates," Gross said. "If #Icahn's so smart, use it to help people not yourself."
Icahn can take the heat. His recent sale of Netflix stock netted him up to $800 million, a return of 457 percent.
Before it's here, it's on the Bloomberg Terminal.
LEARN MORE