VH1's TLC Movie Was the Biggest Cable Movie This Year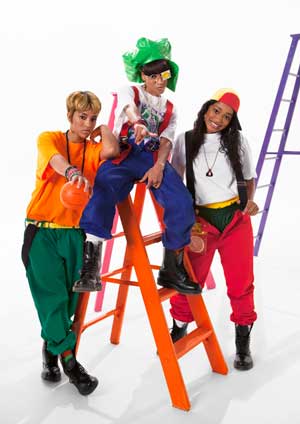 The not-at-all terrible TLC VH1 biopic, CrazySexyCool, which premiered on Monday night, drew 4.5 million viewers, making it the highest-rated cable movie this year, as well as VH1's biggest original movie ever. Though the movie tracked well on Twitter, and Chilli and T-Boz have been making the media rounds (on NPR, no less), even the network was surprised by the turnout. "If anyone said they knew the numbers would be this big, they'd have been lying," says VH1 President Tom Calderone.
It's easy to forget that in the early 1990s, TLC was the epitome of crazy, sexy, and cool. Its fans were also devoted. The band's last album, FanMail, released in 1999 after a five-year hiatus, won three Grammys and shipped 6 million copies. It's not unreasonable to think that 75 percent of those people have both cable and nothing better to do on a Monday night.
The Epic Records tie-in anniversary album, 20, is doing well, too. It's currently the No. 6 bestselling album on iTunes in spite of offering only one new track. CrazySexyCool is getting a follow-on bump: It's in iTunes' top 100, and I wasn't checking, but I have to believe that's a recent development.
Next up are the inevitable copycats. The Blackstreet Story is not yet in the works, as far as we know, but the moment is nigh: Already The LYLAS, a WE-TV behind-the-music reality series is pitching itself as a sort of heir apparent to the TLC legacy.
VH1 does have another similar project in development but won't reveal its focus. "These projects take a long time," Calderone says. "With TLC, we have a high-water mark now. … I would definitely say yes to a Sonic Youth movie, but only me and my six friends would watch it. We're looking for bigger ratings success than that."
Someone please call Teddy Riley.
Before it's here, it's on the Bloomberg Terminal.
LEARN MORE