Shale Energy Deniers: This Post Is Going to Really Annoy You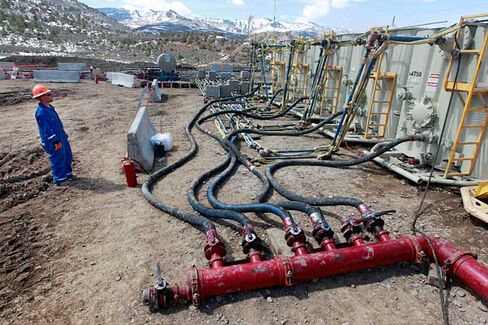 The U.S. shale energy boom has attracted plenty of skeptics. Petroleum geologist and consultant Art Berman has called the shale oil and gas expansion "more of a retirement party than a revolution." Berman and others have cast doubt on the sustainability of the energy revival, given the mixed productivity at some fields and the relative high cost of extracting oil and gas in dense rock formations.
Also weighing in has been Russian President and shirtless horseback riding enthusiast Vladimir Putin, whose country may face unwelcome geopolitical challenges from shale assets worldwide. In the past, he has dismissed America's energy renaissance as a bubble.
U.S energy companies, the Obama administration, and such authorities as Daniel Yergin think a big surge in U.S. energy production—thanks to horizontal drilling and hydraulic fracturing technology, in which pressurized water and chemicals are blasted into rocks to release energy—is a game changer for both the domestic economy and international trade.
International Energy Agency sees the U.S. emerging as a net exporter of oil by about 2030. By some estimates, the U.S. over the summer surpassed Russia to become the world's largest producer of oil and natural gas.
Both sides can't be right—and the debate is far from over. However, a new drilling productivity report by the U.S. Energy Information Administration seems sure to annoy shale boom deniers. Not only is overall oil and gas production growing at breakneck speed, according to the report, it is being driven by "increases in drilling efficiency and new well productivity, rather than an increase in the number of active rigs."
The study looked at the six major U.S. shale formations that represent 90 percent of the growth in domestic oil production and nearly all the increase in gas.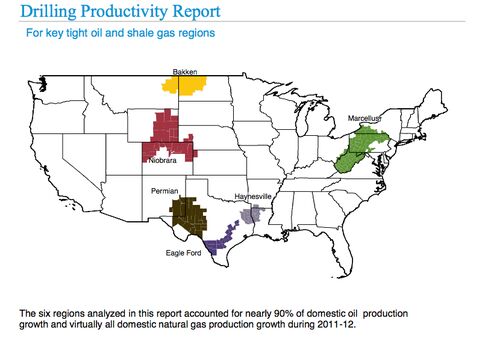 Here's a look at the year-on-year production increases in shale land: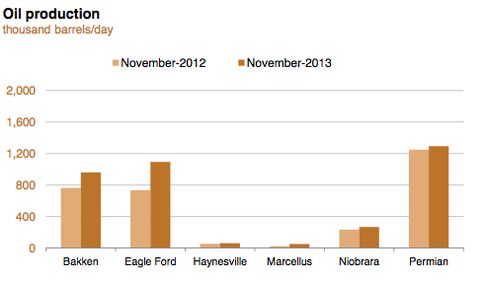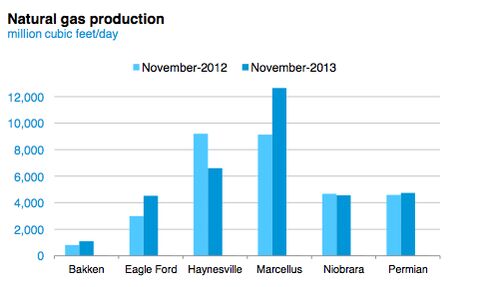 And here's the money stat: Drilling efficiency and well productivity are increasing, particularly for oil. EIA measures this in terms of new oil and gas production per rig.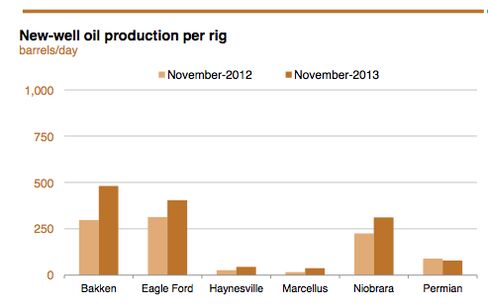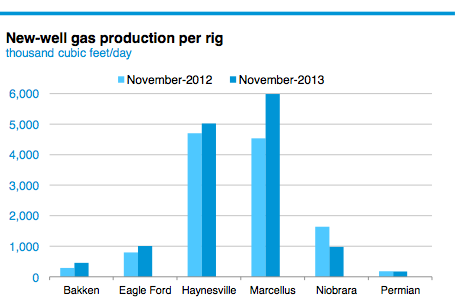 Before it's here, it's on the Bloomberg Terminal.
LEARN MORE