S&P 500 Rally Pushes Index Toward Biggest Annual Gain in Decade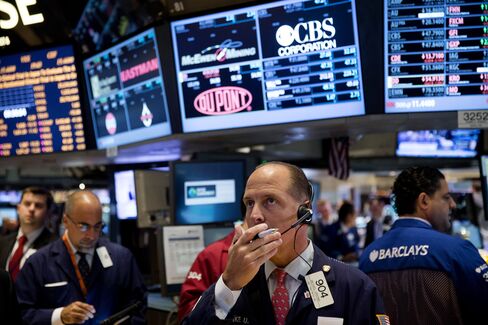 Five straight gains in the Standard & Poor's 500 Index are pushing U.S. stocks toward the best year in a decade, lifted by speculation the Federal Reserve will maintain economic stimulus.
The S&P 500 has advanced 23.03 percent this year, pulling within a percentage point of its 23.5 percent surge in 2009, according to data compiled by Bloomberg. The gauge will surpass that threshold should it reach 1,761, leaving it poised for the largest rise since 2003, when it climbed 26.4 percent. The U.S. equity benchmark is on track to post the 21st biggest annual increase since records began in 1927.
About $4 trillion has been added to U.S. equity values this year amid speculation that the Fed will keep its bond purchases until the labor market improves. While gains in 2003 came after the technology bubble burst, this year's rally follows a four-year advance in which the index doubled. More increases are likely because the economy is still expanding and past rallies survived higher interest rates, according to Brian Jacobsen of Wells Fargo Advantage Funds in Menomonee Falls, Wisconsin.
"There's at least a firm foundation of fundamentals here, whereas during the tech bubble, that certainly wasn't the case," Jacobsen, who helps oversee $226 billion as his firm's chief portfolio strategist, said by phone yesterday. "During 2004 to 2006, the market still marched higher, and I don't see why it can't do that this time."
Monetary Policy
Stocks climbed from 2004 through 2007 as the U.S central bank tightened monetary policy by raising its Fed funds benchmark interest rate. The overnight inter-bank lending rate was increased to 5.25 percent by June 2006, from 1 percent at the end of 2003. The S&P 500 advanced 14 percent in the period.
The U.S. equity benchmark rose 0.6 percent to a record 1,754.67 yesterday. The Dow Jones Industrial Average advanced 75.46 points, or 0.5 percent, to 15,467.66, the highest in a month. The average yearly gain for the S&P 500 is more than 7 percent, according to data compiled by Bloomberg.
Payrolls in the U.S. climbed by less than forecast in September, indicating the economy had little momentum leading up to the 16-day shutdown of the federal government. The jobless rate fell to an almost five-year low.
Progress in the labor market depends on how quickly the world's largest economy can bounce back from the loss of business caused by the government closure. The budget dispute weighed on fourth-quarter growth and will prompt Fed policy makers to wait until March before starting to scale back the $85 billion of monthly bond purchases, a Bloomberg survey showed last week.
'Tremendous Sigh'
"There's a tremendous sigh of relief that monetary policy from the central bank continues to be in place," Eric Wiegand, a New York-based senior portfolio manager at U.S. Bank Wealth Management, which oversees $112 billion, said by phone. "It really has been a tremendous support, or crutch, that's being applied to the market."
Analysts have raised their forecasts for profits in the third quarter, predicting an average increase of 2.5 percent for all companies in the gauge, according to estimates compiled by Bloomberg. That compares with a 1.7 percent projection at the beginning of the month. Data released yesterday showed construction spending in the U.S. rose in August for a fifth consecutive month, propelled by the strongest outlays on homebuilding in five years.
Tech Bubble
U.S. stocks climbed in 2003 as the economy accelerated and Latin American markets led a global rally, luring investors back into equities after the S&P 500 plunged almost 50 percent during the bear market from 2000 to 2002. Avaya Inc., a maker of office-telephone equipment, soared more than fivefold for the biggest gain in the S&P 500 in 2003.
The S&P 500 dropped 3.6 percent in the first three months of 2003 and then rallied 31 percent in the last three quarters as the market started to recover from the crash of Internet stocks. Gross domestic product increased 2.8 percent in 2003, the fastest pace in three years, and the economy expanded at least 3.4 percent for each of the next two years.
The U.S. is now growing at a slower pace. Economists surveyed by Bloomberg forecast GDP will rise 1.6 percent in 2013, from 2.8 percent last year, and climb 2.6 percent in 2014.
Stock valuations increased too much this year, a sign the best equity returns have already happened, according to Joseph Tanious, global market strategist for J.P. Morgan Asset Management. The S&P 500 trades at 16.8 times operating earnings, a 19 percent increase from the beginning of the year, data compiled by Bloomberg show. During the same period in 2003, the multiple rose 6.5 percent to 20.4. It reached a high of 31.1 in 2000.
Slowing Momentum
"The momentum is likely to slow down," Tanious said by phone from New York. J.P. Morgan Asset Management oversees about $1.5 trillion. "Valuation is getting close to fair value."
While the rate of profit growth is weakening in the S&P 500, companies in the index have reported record annual earnings for more than two years, holding valuations close to the historical average even as the gauge's price reached an all-time high in March and kept climbing. Among the 141 companies in the index that have reported so far, 74 percent exceeded analysts' estimates, more than the previous quarter.
"We feel pretty good about equities," Michael Shaoul, the chairman and chief executive officer of New York-based Marketfield Asset Management LLC, said in an Oct. 21 interview on Bloomberg Television. "Corporate earnings point to a re-accelerating domestic economy. 1,800 is attainable."
Before it's here, it's on the Bloomberg Terminal.
LEARN MORE