U.S. Rejects Rigid Rules as 'Roadblock' to Climate Treaty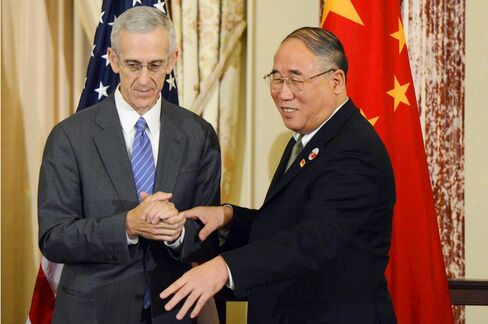 Rigid rules and internationally negotiated emissions targets may hinder efforts to draft a new climate treaty by 2015, the lead U.S. envoy said, calling for a more flexible approach for nations to set individual goals.
"Rigidity is a potential roadblock," U.S. Special Envoy on Climate Change Todd Stern said today in a speech at the policy-analysis group Chatham House in London. While a "system of strict rules and compliance might sound good on paper, it would almost certainly depress the ambition of commitments and limit participation by countries."
Climate envoys from 194 countries are seeking to devise by 2015 a global deal to fight climate change that includes binding commitments from all nations. The treaty would come into force after 2020, replacing the existing Kyoto Protocol, which set binding emissions targets only for developed countries.
Stern said the only way to broaden participation is to ensure that any new deal is flexible enough to facilitate negotiations as countries determine for themselves what commitments they would make. At the same time, those pledges must be clearly defined and subject to international review "to promote ambition," he said.
"An agreement that is animated by the progressive development of norms and expectations rather than by the hard edge of law, compliance and penalty has a much better chance of working, being effective and building inclusive, real world ambition," Stern said. "Insisting that only one way can work, such as an agreement that is internationally legally binding in all respects, could put that prize out of reach."
Kyoto Protocol
The U.S. never ratified the 1997 Kyoto deal because it didn't set binding targets for large developing nations such as China and India. It was the only major developed country not to accept targets in Kyoto's first round of commitments, which ran from 2008 through 2012. Canada withdrew in 2011. Developing countries including China and India were parties to Kyoto, which set no binding targets for them.
Allowing nations to determine their own targets for a new treaty would ensure developing nations aren't forced to accept goals that jeopardize their development, Stern said.
"Developing country concerns about avoiding climate obligations that could constrain their capacity to develop are entirely legitimate," Stern said. "A new agreement must be structured and drafted in a way consistent with those concerns."
(Corrects to say "internationally negotiated" in first paragraph of story published Oct. 22.)
Before it's here, it's on the Bloomberg Terminal.
LEARN MORE