Revved Up Harleys Drown Out Polaris's Revived Indians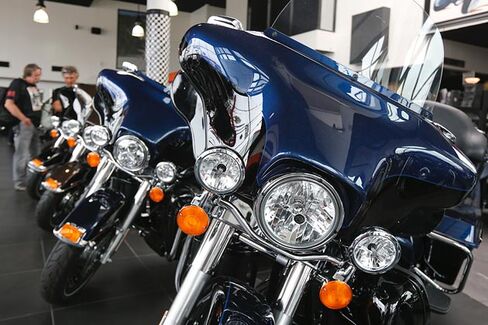 It's only natural that a motorcycle brand idled for almost 60 years might take a little while to get up to speed. But early customers don't appear to be clamoring for the three new Indians, a motorcycle brand born in 1922, shut down in 1954 and resurrected in August by Polaris Industries.
Polaris, a Minnesota company known for its snowmobiles and all-terrain vehicles, reported a six percent slide in motorcycle sales for the three months ended Sept. 30, which includes more than month in which the new Indian models had arrived at dealerships. Marketing probably wasn't the problem, as Polaris had scattered tchotchkes and peppered potential customers with Indian ads for months before its big reveal. And when the unveiling came, the bikes looked pretty smart and won some throaty praise from critics.
What sent Indian skidding a bit was Harley-Davidson, which craftily lined up its biggest product launch in more than a century just days after the Polaris announcement in motorcycle-mad Sturgis, S.D. This morning, meanwhile, Harley said its new Project Rushmore line fueled a 15 percent increase in the number of bikes sold in the recent quarter.
Almost 71,000 Harleys rolled out of dealerships in the period, and the company's share of the U.S. heavy bike market revved up slightly to 56.5 percent. "The results at retail speak for themselves," Harley CEO Keith Wandell said on a conference call this morning.
This is not what Polaris was hoping would come from its Indian marketing mantra: "Choice is here." Bikers definitely have more options this fall, but they appear to be choosing the new Harleys over the Indians or Polaris's other motorcycle brand, the 15-year-old Victory line. Winning customers who never thought to buy a motorcycle might be a lot easier than convincing Harley fans to switch hogs.
What's more, Harley gets a bit of a turbo boost from the accessories market. Some five percent of its total revenue comes from selling Harley gear, a type of brand equity that Indian might have trouble tracking down after being more or less mothballed since 1954. Polaris is giving the souvenir market a shot, but it doesn't yet have Indian-themed Christmas ornaments ($18), piggy banks ($45), or napkin rings ($35).
What it does have, however, is some fuel to burn. Thanks to solid financial engineering, Polaris is pretty balanced and well-tuned. Sales of off-road vehicles—almost three-quarters of its business—increased by 23 percent in the recent quarter. Its snowmobiles were seeing similar momentum thanks to demand in Russia and Scandinavian countries. All told, the company posted a 24 percent increase in profit and beat expectations despite its sputtering motorcycles.
And executives still expect the new bikes to get momentum. "I think of this as the calm before the storm as the Indian business is poised for rapid growth," Polaris CEO Scott Wine said on a conference call this morning. "It occurred to me that bringing this business back to life is quite similar to the birth of a child: tremendous excitement and anticipation, followed by great joy and adulation and then years of really, really hard work."
That's probably an apt metaphor—a parade of Harleys would make any baby cry.
Before it's here, it's on the Bloomberg Terminal.
LEARN MORE