Record JPMorgan Settlement Wouldn't Deter Some Investors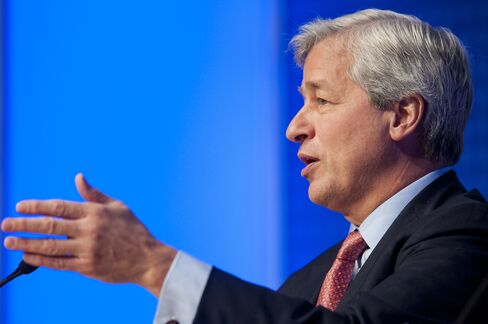 JPMorgan Chase & Co.'s tentative agreement to pay a record $13 billion to end civil claims over its sales of mortgage bonds, a deal that won't absolve the bank of potential criminal liability, hasn't shaken some investors' faith in Chairman and Chief Executive Officer Jamie Dimon.
Billionaire Home Depot Inc. founder Ken Langone said he sees the accord as a buying opportunity. The pact with the U.S. Justice Department would resolve claims that the bank, Bear Stearns Cos. and Washington Mutual Inc. misleadingly packaged and sold mortgage-backed securities. JPMorgan, which acquired both lenders at the government's urging in 2008, fell 10 cents to $54.20 at 12:28 p.m. in New York.
"The brunt of this misbehavior occurred before Jamie or JPMorgan had anything to do with these two companies," Langone, 78, said yesterday in a telephone interview. "I'm very, very comfortable as an investor in JPMorgan."
Dimon, 57, personally negotiated the terms in a call with U.S. Attorney General Eric Holder after markets closed Oct. 18. The government's mounting demand for payments tied to Bear Stearns and WaMu had frustrated the CEO's push to end probes this year, driving legal reserves to $23 billion and causing the New York-based bank's first quarterly loss under his watch.
"There's no question that Jamie Dimon and JPMorgan underestimated the legal risk related to their acquisitions," Mike Mayo, an analyst with CLSA Ltd. in New York, said in an interview. "Dimon messed up with the Bear Stearns acquisition."
'Iron Man'
That doesn't mean shareholders will withdraw their support, Mayo said. JPMorgan weathered the financial crisis without a loss and produced three straight years of record profits, reaching $21.3 billion in 2012. Its shares climbed 72 percent since the end of 2008 through last week, outpacing the 48 percent gain for the KBW Bank Index of 24 U.S. lenders.
"Jamie Dimon will remain Iron Man on Wall Street," Mayo said. "He's still seen as very strong with investors' interests at heart."
The accord, which increased from an $11 billion proposal last month, would mark the largest amount paid by a financial firm in a settlement with the U.S. The payments amount to more than half of JPMorgan's profit last year. Only seven companies in the Dow Jones Industrial Average earned more than $13 billion in 2012, according to data compiled by Bloomberg.
The negotiations and terms were described by two people with knowledge of the situation who asked not to be named because the meetings were private. Brian Fallon, a Justice Department spokesman, declined to comment.
Consumer Relief
The deal would resolve civil probes by three U.S. attorneys offices, two state attorneys general and three federal regulators, according to one of the people. It includes $4 billion in relief for consumers hit hardest by the housing downturn in regions where JPMorgan has branches and $9 billion in fines and other payments, the person said. The payouts would cover a $4 billion accord with the Federal Housing Finance Agency over the bank's sale of mortgage-backed securities for Fannie Mae and Freddie Mac.
JPMorgan disclosed in August that the U.S. Attorney's office in Sacramento, California, has been conducting a criminal probe of the company's bond sales. The settlement wouldn't eliminate the possibility of charges against the bank or its employees, according to the other person.
'Not Good'
"To not get the waiver from criminal prosecution is not good," said Nancy Bush, a bank analyst who founded NAB Research LLC in New Jersey. "What we're looking for in a settlement of this size is certainty from things like the criminal prosecution of a company. The Street wants certainty."
In anticipation of a deal, JPMorgan took a $7.2 billion charge for expenses tied to regulatory matters and litigation in the third quarter, leading the bank to announce a $380 million loss on Oct. 11. Laban P. Jackson, a JPMorgan board member, voiced support for Dimon days after the surprise loss was announced.
"He's the best manager I've ever seen, and I'm old," Jackson, 71, said at the National Association of Corporate Directors' annual conference in Oxon Hill, Maryland. "He has, as we all do, flaws."
One reason Dimon settled was to avoid the increased legal costs involved in a potential civil suit, said David Felt, a former FHFA deputy general counsel who oversaw litigation at Fannie Mae and Freddie Mac.
Unwanted Precedent
"If you lose to the government, that definitely increases your private liabilities, because once you're found liable on a particular set of facts, it can be held against you in other cases," said Felt, who now works at Arnall Golden Gregory LLP in Washington. "They didn't want that precedent."
It helps Dimon that other banks are facing similar probes and FHFA demands and that at least two-thirds of JPMorgan's mortgage-bond liability came from Bear Stearns and WaMu, said Glenn Schorr, an analyst with New York-based International Strategy & Investment Group LLC.
"I don't think investors will put that on him," Schorr said. "JPMorgan took it on the chin and is leading the pack with the big settlement, but you will see other settlements once this is set by the other banks."
The FHFA is seeking at least $6 billion from Bank of America Corp., according to a person with direct knowledge of the discussions. Spokesmen for the regulator and the Charlotte-based lender declined to comment.
Criminal Investigations
The outline of JPMorgan's accord was reached during the Oct. 18 telephone call between Holder, Dimon, JPMorgan General Counsel Stephen Cutler and Associate U.S. Attorney General Tony West, said one of the people. The settlement's statement of facts and final details, such as how the homeowner relief will be structured, is still being negotiated, the people said.
Holder told Dimon that a release from the criminal inquiry wouldn't be forthcoming as part of any deal, said the person familiar with their talks. The accord probably will require JPMorgan to cooperate in criminal investigations of individuals tied to wrongdoing associated with the bank's mortgage practices, the person said.
The possible inclusion of homeowner relief has revived concerns among mortgage-bond investors that efforts to ease the financial burdens of millions of Americans may lower the value of instruments held by Wall Street money managers.
Underwriting Lapses
The Association of Mortgage Investors, representing mutual funds and pensions, urged Holder in an Oct. 7 letter not to let banks saddle them with costs associated with relief for mortgage borrowers. Banks settling claims of underwriting lapses often service debts in bonds held by others, who can wind up bearing the burden of breaks granted to homeowners.
In addition to the Justice Department and FHFA cases, JPMorgan's deal would settle claims by the Federal Deposit Insurance Corp. and National Credit Union Administration, one of the people said. The accord, which may be announced in the coming week, also resolves pending inquiries by New York Attorney General Eric Schneiderman and California Attorney General Kamala Harris, the person said.
"It looks like they are gradually becoming able to put the past and the crisis behind them," said Craig Pirrong, a finance professor at the University of Houston's Bauer College of Business whose research includes risk management. "It's an expensive history lesson, and they are not out of the woods yet."
Civil Violations
JPMorgan's push to end the mortgage probes intensified last month after the U.S. Attorney's office in Sacramento told the bank it was preparing to bring a case. Authorities there already had concluded there were civil violations, JPMorgan said in August.
Dimon spent two hours at the Justice Department in Washington on Sept. 26 to discuss a possible settlement of state and federal probes with Holder, a person familiar with the matter said at the time. During the bank's talks with senior Justice Department officials, proposals swung by billions of dollars, people with knowledge of the situation said. At one point, officials rejected the company's offer to pay $3 billion to $4 billion, one person said at the time.
"It almost sounds like a negotiation where the government just kept saying, 'No. No. No,' until JPMorgan met their number," said Peter Henning, a former federal prosecutor and Securities and Exchange Commission attorney who teaches law at Wayne State University in Detroit.
Global Deal
Others involved in the talks about a global deal included the Department of Housing and Urban Development and Schneiderman, who's co-chairman of a federal and state working group on residential mortgage-backed securities, which negotiated the civil-mortgage settlement with JPMorgan.
"We are proceeding with negotiations and I have no comment about the specifics," Schneiderman said today at a news briefing in Manhattan. "We are very, very hopeful that we will have a resolution with this bank that can serve as a template for resolutions with other banks."
The FHFA sued JPMorgan and 17 other banks over faulty mortgage bonds two years ago to recoup some of the losses taxpayers were forced to cover when the government took control of failing mortgage finance companies in the wake of the credit crisis. The regulator said executives at WaMu and Bear Stearns knowingly misrepresented the quality of loans underlying the bonds, according to the lawsuit in federal court in Manhattan.
Dimon's Reluctance
Schneiderman's office sued JPMorgan last October, claiming Bear Stearns misled mortgage-bond investors about defective loans backing the securities. The firm failed to fully evaluate the debt, ignored defects uncovered by a limited review and hid that it failed to adequately scrutinize the loans or disclose their risks, according to the complaint.
Dimon said in a speech last year that he did the U.S. a favor by buying Bear Stearns and that he might not go through with it again because of how much the deal ultimately cost.
The bank has pushed to settle other investigations. It paid $1 billion to five different regulators in the past month to settle probes into botched derivatives trades that lost more than $6.2 billion in 2012. It also settled unrelated claims it unfairly charged customers for credit-monitoring products.
JPMorgan faces an investigation into its hiring practices in Asia, and it's the subject of a probe by Manhattan U.S. Attorney Preet Bharara into claims it abetted Bernard Madoff's Ponzi scheme, a person familiar with that matter said.
JPMorgan's rising legal and regulatory penalties don't mean the company's bankers are "immoral," Dimon told an audience Oct. 12 at a meeting hosted by Institute of International Finance, where he acknowledged the firm was working through a series of problems.
"Some are self-inflicted, which we've completely confessed to the whole world; some are obviously industrywide," he said. "And yes, we've had some mistakes. But honestly, you can never expect to have no mistakes. So, we've had more than our share."
The case is Federal Housing Finance Agency v. JPMorgan Chase & Co., 11-06188, U.S. District Court Southern District of New York (Manhattan).