Oil Below $100 Benefits Everyone, Even Investors
Oil broke below $100 for the first time since July for three important reasons: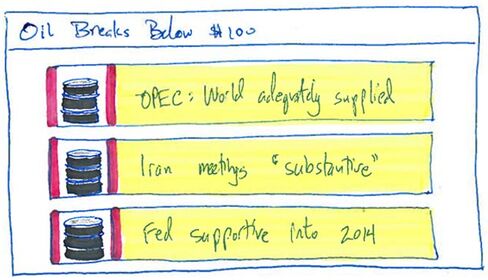 Fadel Gheit, an analyst at Oppenheimer & Co., estimates speculative traders have built in a risk-premium of $20-25 to the "fair market" price of oil since 2009, presumably allowing for possible supply shocks in the Middle East. So, as Iran softens its tone and OPEC keeps pumping oil (and the Fed keeps pumping cash), the market is whittling away the cushion.
Falling oil prices come as welcome relief to both consumers (filling up my car this weekend with 93 octane cost $94) and refiners, who purchase crude oil via long-term contracts and then process it into refined products for sale.
The New York Mercantile Exchange (NYMEX) offers a futures product called the "3-2-1 Crack Spread" as a way for refiners and traders to hedge refining costs. It attempts to approximate a refiner's profit margin. Since modern refineries generally produce twice as much gasoline as heating oil, it's weighted towards gasoline. Here's the formula:
3-2-1 Crack Spread = ((2 x Gasoline) + (1 x Heating Oil)) - (3 x Crude Oil)
We know, there's a lot more that actually comes out of a refinery. And all refineries are different. Nonetheless, this is the market's "commoditized" snapshot of a typical refinery's refining margin. Here's the 3-2-1 Crack Spread for the past year:
You can see how little refiners have been making over the past several months, especially considering most refiners only break even when the 3-2-1 proxy is at least $10/bbl. So, falling crude prices are welcome news.
Refiners currently trade at mid-single digit price-to-earnings ratios, reflecting low earnings. These valuations are significantly below long-term P/E values, which we show below. The difference is their theoretical upside, should fundamentals continue to improve and margins continue to widen.
Falling oil is good for refiners. It's good for consumers. I think it's good for investors as well.