Netflix Passes HBO in Subscribers! (If You Stop Counting at the Border)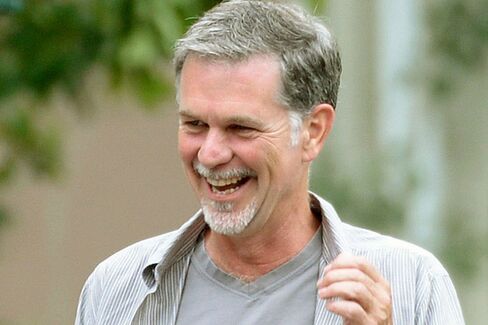 Netflix co-founder Reed Hastings has long cited HBO as the pay-TV model his company most wants to emulate. It has now achieved one significant milestone (PDF) in that HBO race, reaching 29.9 million paid U.S. subscribers in the third quarter to surpass the premium-cable king by about 1.1 million.
Hastings isn't popping bubbly just yet: Outside the U.S., HBO has about 114 million subscribers, compared to Netflix's 9.2 million. What's more, HBO is profitable worldwide—a far cry from the red ink Netflix generates abroad.
"HBO is really focused on doing incredible work and they'll probably do some of the best shows they ever do in the next five years," Hastings said on Monday afternoon in a live video discussing the company's results. "I don't know when we'll catch them. It'll be a long time. They've been at it since 1972—that's 40 years—and we've been at it in the streaming sense only seven years."
Helped by the Emmy buzz around its House of Cards original series and acclaim for the prison drama Orange is the New Black, Netflix earned $32 million, or 52¢ per share, topping analysts' estimates, according to Bloomberg data; revenue rose 22 percent to $1.11 billion, also slightly ahead of forecasts. But those measures are largely secondary in the minds of many Netflix investors, who tend to scrutinize subscriber growth, above all else. The company added 1.3 million new domestic subscribers in the quarter, and when free subscribers are added to the paying lot, Netflix counts of 31.1 million members in its home market.
That news sent Netflix shares soaring more than 10 percent in aftermarket trading, to $391, far above the closing price of 354.99 and building on gains of 283 percent this year. The "investor-fueled euphoria," Hastings noted, is like the frothy days of 2003, when Netflix shares also led the Nasdaq's top performers. "It worries me because that was the exact headline we saw in 2003," he said in response to a question from BTIG analyst Rich Greenfield on why the company decided to comment on its stock price.
With a $7.99 monthly streaming plan, Netflix is firmly entrenched as a premium entertainment streaming service to rivals such as HBO and Showtime. Netflix executives called Orange Is the New Black their most successful debut of a new original series, although the company continues to resist calls to release viewing data on its programs. On the call, Chief Content Officer Ted Sarandos said Netflix is likely to produce several documentaries and shot down the idea of entering the sports market to stream professional football or other live events.
Netflix also continues to offer its original DVD service for the same $7.99 price, but that business shrinks each quarter, as more people migrate to streaming. In the most recent quarter, DVD subscribers fell to 7.2 million and contributed $107 million in profit. Next year, the profitability of that unit—which operates as a separate group within Netflix—is expected to dwindle further because a U.S. Postal Service rate hike in January will cost the company as much as an additional $4 million in 2014.
For the second consecutive quarter, Netflix decided to use a Q&A session broadcast on YouTube to address analyst queries, which were funneled through Greenfield and JP Morgan analyst Douglas Anmuth. Unlike the inaugural broadcast, however, Monday night's 62-minute session was far more professional in terms of lighting and camera quality than the first 30-minute chat was. Gone were the laptop-caliber video cameras and dim lighting. Still, it was no prison comedy.
Before it's here, it's on the Bloomberg Terminal.
LEARN MORE