More Pain for GOP in Post-Shutdown Polls. Will the Hurt Last?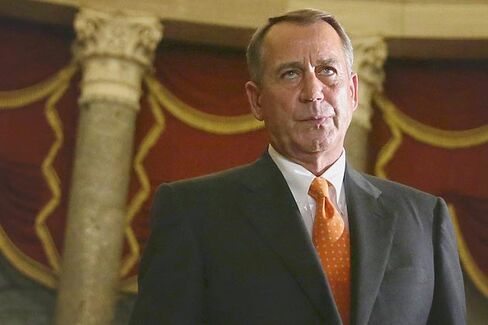 Republicans won almost no concessions in the debt-ceiling standoff and have instead been pummeled in the polls. The severity of the damage shown in two recent surveys opens the door to serious questions about whether the pain will persist into next year's congressional elections.
The first new poll is a nationwide survey by CNN/ORC International that reinforces just how much the shutdown hurt the Republican brand. Control of the House by the GOP is deemed "bad for the country" by 54 percent of Americans, up 11 percentage points from December 2012. People aren't happy with the party's leadership, either: 63 percent want Representative John Boehner (R-Ohio) to be replaced as speaker of the House. As I explained last week, it was unlikely the Tea Party would have ousted Boehner, because any likely replacement wouldn't have been more conservative. But that doesn't mean the broader public hasn't grown frustrated with how Boehner tried to placate both the conservative and moderate wings of his party. In an interesting twist, it's independents—those key swing voters—who are even more likely to want to replace Boehner than people who identify as Democrats or Republicans.
The second new batch of data comes from surveys in 25 Republican-held congressional districts by Public Policy Polling on behalf of MoveOn.org Political Action, a liberal group. The poll affirms PPP's earlier findings that GOP voters have reacted so negatively to the standoff that those red districts could be in play next year. Taken together, the PPP surveys found respondents favored a generic Democratic challenger over the incumbent in 37 of the 61 Republican districts that PPP polled.
What these polls will mean for an election a full year away is, of course, the key question. PPP offers several caveats, including the all-important reminder that "generic Democrat candidates are not the same as actual candidates." PPP says the Democratic Party "must recruit strong candidates and run effective campaigns" to harness the unhappiness. Politico reports the negative polling has already helped Democrats recruit "blue-chip" candidates in more than half a dozen "top-flight" races, and some moderate Republicans are considering challenges against Tea Party incumbents—a reversal of the recent pattern that saw moderates fall to more conservative challengers.
Meanwhile, Princeton's Sam Wang predicts the negative swing will subside in two to six months. How the GOP responds to the next debt ceiling and budget deadlines in early 2014 will go a long way, he says, to determining if the party's ratings swing down once again.
Before it's here, it's on the Bloomberg Terminal.
LEARN MORE