The Top-25 College Football Game You Can't See on ESPN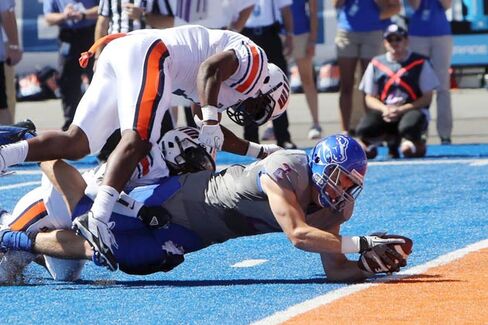 When Fresno State, the country's 17th-ranked college football team, takes the field this Saturday evening, the only place outside the stadium to watch the game will be Campus Insiders, an obscure website that has been trying to poach the rights to football games from conferences that can't get the full attention of ESPN.
ESPN rules college football, and its zeal for the sport has been a huge boon for such places as Ohio State University. After all, who wouldn't want to swim in a sea of broadcast money? Things get more complicated, though, for schools that aren't filling their rosters with future draft picks and paying several million dollars in annual coaching salaries.
"They want us to play at 6 o'clock on Thursday night—that's the window available to us," said Craig Thompson, commissioner of the Mountain West Conference, which includes occasional top-25 teams such as Fresno State and Boise State but no consistent powerhouses. Thompson suspects the conference might do better online. "On a digital platform, if the teams want to play Saturday at noon, they can do that," he says.
The Mountain West is one of three college sports conferences that have signed distribution deals with Campus Insiders, an online video network funded by IMG College and Silver Chalice, run by Chicago Bulls and White Sox owner Jerry Reinsdorf. The site has also signed prominent sports reporters Bonnie Bernstein and Seth Davis. Visitors to the site are streaming between 18 million and 25 million videos each month. Saturday marks the first time it has held the exclusive rights to a game featuring a nationally ranked team.
The migration of sports from television to the Internet is rumored to be happening on a much grander stage, with Google reportedly in the mix as the NFL shops for new digital distribution. Similarly, the Mountain West was looking to experiment when it renegotiated its television deals last year. It still sells the rights for most games to either CBS or ESPN, but the conference also set some space aside to experiment with digital distribution.
Campus Insiders doesn't pay as much as ESPN. What it offers, in exchange, is attention. It tells conferences it will help produce and broadcast online less-popular sports such as volleyball and swimming—serving as an alternative to the conference's own network. "There's an in-kind partnership here," says Crowley Sullivan, Campus Insiders' general manager.
Meanwhile, the company thinks it can make a living selling advertising against the football and basketball games. The site has attracted such advertisers as BP, Ruby Tuesdays, and Progressive Insurance.
Schools and advertisers have been willing to sign on to the experiment, even though in some ways, Campus Insiders isn't quite ready for prime time. It has created applications for mobile devices and Roku, the Internet television device, but hasn't figured out how to stream live content through them. (Basically, you're watching Saturday's game on your laptop.) The company says the lack of live content in its apps is a technical issue and doesn't reflect any restrictions in the rights it has negotiated.
The challenge for Campus Insiders will be to persuade colleges and their conferences that it makes sense to offer them more than ESPN's leftovers. That day is a ways away, not least because television broadcast contracts last for years. Thompson says Mountain West intends to sell to a mix of TV and Internet platforms for the foreseeable future, and he sees himself as Campus Insiders' guinea pig.
Sullivan sees things differently. "Sooner than later, we expect fans to know they'll find top games on Campus Insiders," he says.
Before it's here, it's on the Bloomberg Terminal.
LEARN MORE