Welcome Back, Taper Chatter, We've Missed You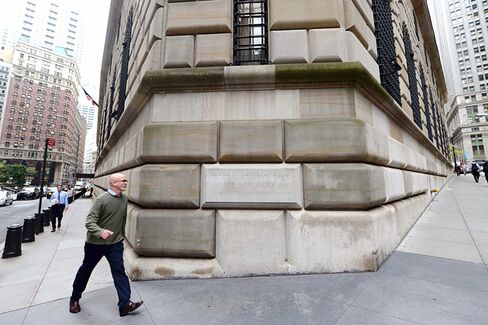 Hooray! With the shutdown ended and the debt ceiling lifted, investors can stop factoring in those two gigantic government forces in the markets—and, uh, go back to factoring in that other gigantic government force in the markets.
The Federal Reserve is less likely to taper its economic stimulus policies because of the Tea Party–triggered default insanity, both BlackRock and Pimco say. "Because of the disruption, because of the uncertainty, what's likely to happen is a slower pace of tapering by the Fed," said Russ Koesterich, BlackRock's chief investment strategist, on Bloomberg Television today.
"The market is turning back to looking at the Fed," Donald Ellenberger of Federated Investors told Bloomberg News. "The uncertainty in the market and the economy may keep the Fed on hold longer than anticipated, which is supportive of Treasury prices." The yield on 10-year Treasury bills is now back down to 2.596 percent, where it was in early August, after rising as high as 2.994 percent on Sept. 5. (Yields fall when bond prices rise.)
To boost the economy, the Fed has been keeping interest rates near zero and buying $85 billion of bonds each month. Chairman Ben Bernanke has said the central bank will keep it up until the employment situation improves. Guessing when this money flow will slow down or end entirely has been the megaforce driving the markets all year, as we've noted quite a few times.
The Fed was expected to announce a reduction in the bond-buying in September, and markets rallied when it didn't.
The government shutdown cut 0.6 percent from fourth-quarter GDP growth and erased $24 billion from the U.S. economy, Standard & Poor's has estimated. The deal President Obama signed into law last night funds the government only through Jan. 15, 2014, and extends the nation's borrowing limit through Feb. 7, so the fiasco could be repeated relatively soon.
"Our accommodative policy is a useful buffer against these kinds of fiscal disturbances," Narayana Kocherlakota, president of the Federal Reserve Bank of Minneapolis, told Bloomberg News earlier this month.
Further propping up the markets: President Obama's nominee to succeed Bernanke, Janet Yellen, is almost universally regarded as a monetary policy "dove" likely to continue the purchases until joblessness drops. Businessweek's Peter Coy, though, recently wrote that there are at least two economists who think she could be more hawkish than traders realize.
Before it's here, it's on the Bloomberg Terminal.
LEARN MORE