McConnell's Favored Dam Project Included in Debt Deal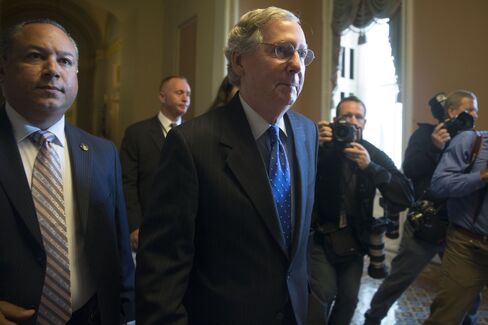 The legislation approved by Congress to end the fiscal impasse includes a provision authorizing an additional $1.2 billion for a lock and dam project favored by Senate Minority Leader Mitch McConnell of Kentucky.
The deal brokered by McConnell, a Republican, and Senate Majority Leader Harry Reid, a Nevada Democrat, includes permission to continue construction on the Olmsted Locks and Dam on the Ohio River between Kentucky and Illinois. It would boost the authorization to about $2.9 billion from about $1.7 billion.
The two senators in charge of the panel that allocates money for water projects said last night that contracts would have been canceled and $160 million would have been wasted unless Congress moved quickly to renew the project's authorization. Battles over the budget and President Barack Obama's health-care law had sidetracked action on routine bills, including one that would have reauthorized this project.
Don Stewart, a spokesman for McConnell, said in an e-mail the White House supports the project and that it was Senate appropriators who requested the project be included in the stopgap spending bill.
Stephen Ellis, vice president of Taxpayers for Common Sense, a group opposed to government waste, said in an e-mail that it appears McConnell "took advantage of his position to slip in this bit of parochial pork."
The Senate Conservatives Fund, a group that's opposed to McConnell's re-election in 2014, labeled the authorization a "Kentucky kickback."
Anti-McConnell Ads
"This is an insult to all the Kentucky families who don't want to pay for Obamacare and don't want to shoulder any more debt," the organization said in a blog post on its website.
The group is running ads in Kentucky to aid McConnell's primary election opponent, Louisville businessman Matt Bevin.
The legislation doesn't provide any money for the project. As an authorization, it provides permission to continue work and sets a maximum amount that can be funded. The bill would permit total funding of as much as $2.9 billion.
McConnell has previously sought funding for the project. He toured the construction site on August 20, 2009.
"There is no more important project in the country, in terms of cost-benefit ratio," he said at the time, according to a news story on the website of the Army Corps of Engineers Louisville district.
Costly Delays
"The challenge for me and other members of Congress who are interested in this is to keep the funding going. To the extent that you can't get money on an annual basis, it delays the project and ends up costing more," McConnell said. "I and others in Congress are going to do everything we can to keep this project on schedule."
Senator Lamar Alexander of Tennessee, the top Republican on the appropriations subcommittee that handles spending on water projects, said in a statement last night that he and the panel's chairman, Democratic Senator Dianne Feinstein of California, requested the provision.
"According to the Army Corps of Engineers, 160 million taxpayer dollars will be wasted because of canceled contracts if this language is not included," Alexander said in his statement.
URS Corp., a San Francisco-based company, is leading a joint venture to build the project. The project is designed to reduce tow and barge delays through that stretch of the river, about 17 miles upstream from where the Ohio and Mississippi Rivers meet, according to the U.S. Army Corps of Engineers website for the Louisville district.
Water Projects
Earlier this year, the Senate passed a bill that would authorize a variety of water projects around the country, including Olmsted. That bill includes language ordering the Government Accountability Office to study cost overruns on the project.
The project initially was authorized in 1988 for a maximum of $775 million. As of the 2011 fiscal year, it had received more than $1.4 billion, according to the Army Corps.
An administration official said today that the provision doesn't increase funding for the Army Corps and would avoid additional costs incurred by a delay. The White House identified a number of projects that would have run into difficulty without full-year funding and Congress chose which to include, according to the official, who asked for anonymity to discuss negotiations with lawmakers.