Gecamines Didn't Tell Government of KCC Gertler Deal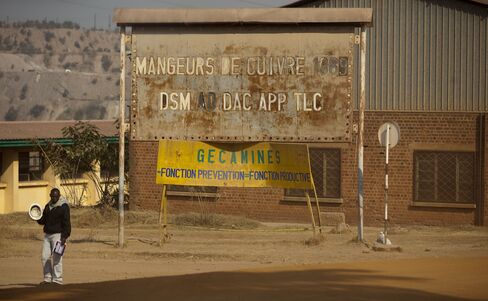 Gecamines, the Democratic Republic of Congo's state-owned mining company, didn't tell the Mines Ministry of a possible sale of its stake in Kamoto Copper Co. to billionaire Dan Gertler, according to a letter from the mines minister.
The company, based in Lubumbashi, may sell its 20 percent stake of Kamoto, known as KCC, to raise money for other projects, Chairman Albert Yuma said in an Oct. 3 interview. KCC may become Congo's biggest copper miner next year, Mines Ministry statistics show.
"Several agreements and/or contracts have been signed without any information having first been made available either to the Portfolio Ministry or the Mines Ministry," according to an Aug. 30 letter from Mines Minster Martin Kabwelulu to Gecamines' officials obtained by Bloomberg News. "New information indicates rather advanced negotiations" for Gecamines' stake in KCC, according to the letter. KCC is controlled by Glencore Xstrata Plc, the Baar, Switzerland-based resources company.
Gecamines Chairman Albert Yuma said in an e-mailed statement today that the company had informed the government of possible asset sales.
"The implementation of the company strategy as approved by the State as shareholder, including the potential sale of assets, is constantly discussed with and reported to the shareholder," he said. Any sale of its KCC stakes "would depend on the value and terms" offered.
Yuma said he had not seen the letter in a phone interview on Oct. 15. Gecamines' "first choice" is to raise funds before selling any more assets, he said.
Undervalued Assets
Gecamines has faced criticism from the International Monetary Fund and advocacy groups including London-based Global Witness for selling its assets in a non-transparent process. The 10-member Africa Progress Panel, led by former United Nations Secretary General Kofi Annan, said in May that Congo lost at least $1.36 billion between 2010 and 2012 in deals where state-owned companies including Gecamines sold mining stakes at undervalued prices.
The IMF canceled its $532 million loan accord with Congo last year after the government failed to provide enough detail of Gecamines' June 2011 sale of its 25 percent stake in the Comide Sprl copper project to Gertler's Straker International Corp. The deal was one of five sales in 2011 by state-owned Congolese mining companies to Gertler questioned by the IMF.
Gecamines chose Gertler's Fleurette Group as the potential buyer for the KCC stake after a tender in which no other bidders submitted final offers, according to three people with direct knowledge of the deal. Any sale would require approval from Glencore's Katanga Mining Ltd., which owns 75 percent of KCC and has first right of refusal.
Sole Shareholder
"We don't comment on market speculation," Fleurette said by e-mail on Oct. 15. Yuma said the tender is ongoing.
The government is Gecamines' sole shareholder and it "has been often made the object of questions and/or unwanted motions by parliament" because of Gecamines' transactions, Kabwelulu said in the letter. "Gecamines officials will be entirely responsible for the commitments they make alone for the transfer and sale of assets."
Congo's government is studying Gecamines' new reorganization plan, Kabwelulu said on Oct. 15. "In any event, we must avoid the possibility of selling Gecamines' shares in KCC," he said by mobile-phone message. "The government will see if other opportunities to re-start Gecamines exist."
Gertler, an Israeli who is close friends with Congo's President Joseph Kabila and has invested in the country for more than 15 years, is worth $3 billion, according to the Bloomberg Billionaire's Index.
'Full Transparency'
Gertler companies in 2011 bought Gecamines' stakes in Glencore's Mutanda and Kansuki copper and cobalt projects that have now merged. The total sale price was more than $600 million below market value, according to the Africa Progress Panel report.
"We should have full transparency in the mining sector," Prime Minister Matata Ponyo said in an interview on Oct. 11. "There is a decree that I have signed that clearly states that there is no sale in the mining industry that can be undertaken without abiding by" regulatory rules, he said.
A January 2013 Bank of America Merrill Lynch report on Glencore's takeover of Xstrata Plc valued Katanga Mining at $5.2 billion.
KCC's copper output is scheduled to rise to 300,000 metric tons next year. Congo mined about 600,000 tons of copper in 2012, making it the world's eighth-largest producer.
'Show Proof'
"If Gecamines goes ahead with the KCC sale, then we urge them to show proof that this was genuinely an open and competitive tender, and to show some evidence of an independent and credible valuation," executive director of the Geneva-based African Progress Panel, Caroline Kende-Robb, said by e-mail. "Recent history shows how the systematic undervaluation and non-competitive sale to foreign buyers has been disastrous for the DRC."
In March, the United Nations named Congo the least-developed country in the world, tied with Niger. The International Finance Corp., the World Bank's private-lending arm, ranked the country 181 out of 185 economies, listed by ease of doing business, in its annual report this year.
Mining made up 15.4 percent of Congo's economy in 2012, according to the IMF. Kabwelulu said last year he wants to raise that figure to 25 percent by 2016.