Steel Yourself: It Might Be a Fad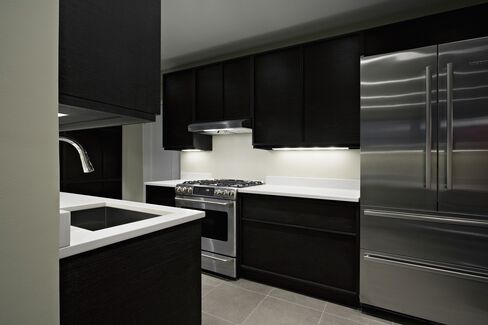 Indulge your inner chef with professional stainless steel appliances.
Not necessarily Loot's advice -- it's the boast of a new rental tower in midtown Manhattan. Across the river, a tower in Brooklyn sends out its own siren call: Stainless steel appliances all create a genteel, modern ambiance.
But wait a second -- who decided it was a selling point for a kitchen to look like a high school cafeteria?
"There are definitely instances where stainless steel provides a more durable surface and finish," says Stuart Harvey Lee, the founder of Prime Studio , an industrial design shop in New York. "Cooktops on stoves would be an example of something you need to clean quite aggressively, and as the name implies, it's stainless."
Most of the time it's a question of aesthetics, not function, Lee says. "When you get to things like coffee makers, it's purely decorative," he says. "There's an internal plastic housing, and stainless is applied to the outside of it."
Why is stainless steel the finish of choice? A few things, says Lee, but it comes down to the perception that it's professional. "Lifestyle magazines have dwelled on it a lot," he says, but also "the rise of the Food Network and those kinds of shows really factors into it. People watch them and very much want to feel like a pro."
Then there's marketing, says Jonathan Sabutis, a senior industrial designer with Harry Allen Design in New York. "Plastic has a cheap character," says Sabutis, though that reputation is often undeserved. "It's definitely a question of perception," he says, "because there are probably plastics that are stronger than steel."
In the end, he's a stainless guy. "I think it deserves its reputation, for sure," he says, adding, "You could make the argument that stainless steel has eco-friendly possibilities. It's highly recyclable, and a lot of plastics aren't."
Lee is less convinced. "I think the trend is so prevalent now that it's overdone," he says. "You can get stainless steel on everything, and the fact is, a lot of it is purely decorative and has no functional benefit." Like all fads, Lee sees stainless steel's expiration date looming. "It's on the tail end of the trend," he says. "People will start to look for different finishes."
And real estate agents will start to look for different pitches. "All plastic kitchen!" doesn't have quite the right ring.
James Tarmy reports on arts and culture for Bloomberg Muse, the arts and leisure section of Bloomberg News.