Black-Owned Small Businesses Buffeted by U.S. Shutdown's Effects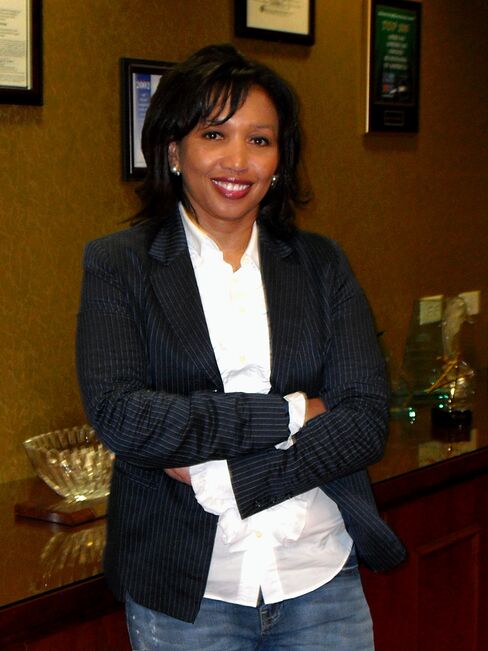 Janet Bashen called her 19 employees Sunday night and told them she couldn't afford to pay them.
Don't come in Monday, she said.
The partial U.S. government shutdown had lasted too long for her namesake small business, Houston-based Bashen Corp., which provides diversity training and investigates discrimination complaints. Federal agencies were weeks late on about $100,000 in payments, and they had ordered her to temporarily stop work on several contracts, she said.
"There are mountains and mountains of government cases in my office that I can't do anything with," said Bashen, named to Ebony Magazine's Power 100 list of influential African-Americans in business, entertainment, sports, politics and business in 2012.
Black-owned small businesses have struggled for years to get their fair share of the U.S. government's $500 billion contracting market. In the third week of the shutdown, they may be absorbing an inequitable share of the pain.
"When big businesses catch a cold, we catch pneumonia," Harry Alford, chief executive officer of the Washington-based National Black Chamber of Commerce, said in a phone interview.
Like many small businesses, minority-owned small businesses are more vulnerable to downturns in federal spending because they often don't have the cash and credit lines of big contractors such as Lockheed Martin Corp. and Boeing Co. The minority-owned companies also tend not to have strong relationships with acquisition officers, which are helpful for a firm that wants to win work, Alford said.
"Race could be a factor in that -- but not always," he said.
Contracting Disparity
By the numbers, there is a disparity. Small businesses attracted about $98.2 billion in government awards last year, according to data compiled by Bloomberg. Black-operated companies won about 7.2 percent of that total even though about 13 percent of the U.S. population is black.
Awards to black-owned small businesses dropped 6.5 percent from fiscal 2010 to 2012 -- more than four times the decline in all federal contracts. Before 2010, awards to the companies had been steadily increasing.
Small businesses are generally defined by the government as having fewer than 500 employees or less than $7 million in average annual sales. Since the shutdown began Oct. 1, they have reported stopped work, late payments and canceled solicitations for new contracts.
Late Payments
Most smaller companies submit invoices at the start of each month, Larry Allen, president of Allen Federal Business Partners, a McLean, Virginia-based consulting company, has said. Payment is supposed to be within 30 days.
That means many small businesses, including those owned by minorities, may experience more negative effects of the shutdown next month.
Micheal Davis, a black, retired Army lieutenant colonel who owns Davis-Paige Management Systems LLC, knew what was coming before the shutdown began Oct. 1. So he filed every invoice he could on Sept. 30 to increase his chances of getting paid during the closing.
Even so, Davis said he has had to furlough an estimated 60 of his roughly 190 employees. Agencies told his company to stop work on five or six contracts. They also closed federal buildings and excused hundreds of thousands of government workers, some of whom are required to oversee certain work done by Davis's company, from their jobs.
Stopped Work
"It is tough, but you can't invoice for people that aren't working," said Davis, whose Annandale, Virginia-based company provides program management, engineering, emergency management operations and other services. "We're still taking care of their medical and dental. I didn't want my employees not having the capability to take care of their families."
Staci Redmon, the black CEO of Strategy and Management Services Inc. in Springfield, Virginia, said her 110-person company has received stop-work orders on three contracts.
Redmon, who served in the Army as a sergeant, said she had to delay hiring 12 people because their positions are tied to three contracts on hold until fiscal 2014 funding is approved.
Vacation Time
She had to direct about 10 workers to take vacation due to the shutdown -- and all of them were moved to "temporary layoff situations" after their paid time off expired, she said in a phone interview.
"Ten or so people means a lot more to us as a small business than 3,000 does to a big business," she said.
Lockheed Martin, the Bethesda, Maryland-based company that is the top federal contractor, last week furloughed 2,400 workers. That represents about 2 percent of its roughly 120,000 employees.
By comparison, 100 percent of Janet Bashen's employees are furloughed.
Her company was vulnerable to the shutdown because it gets about 70 percent of its business from federal agencies. Bashen Corp. has worked with the Department of Homeland Security, the Agriculture Department and the Justice Department.
When Bashen showed up for work yesterday, she learned her small business hadn't run out of one thing -- loyalty.
Most of her employees showed up for work, knowing she couldn't pay them.
"I was so moved," Bashen said, her voice cracking. "It's not cool for the CEO to start crying, but I couldn't help it. I just broke down."