Five Things to Know About Angela Ahrendts, Apple's New Retail Chief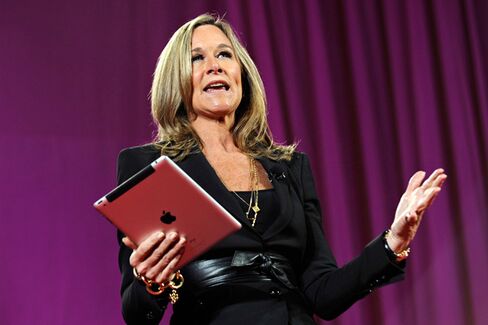 So does this mean plaid iPhones?
Apple announced it has hired Angela Ahrendts, chief executive officer of British fashion label Burberry, to become its senior vice president of retail.
The hire fills a hole in Apple's executive ranks, which has gone without a retail chief for a year. The job has a touch of the ejector seat about it, as the previous SVP of retail, John Browett, lasted only six months in the position. Before that, Apple's longtime retail boss was Ron Johnson, who left Apple to become CEO of JC Penney in November 2011, only to leave that company 16 months later.
But enough about them. What's the deal on Ahrendts?
1. Ahrendts has done her job at Burberry, and done it well. She joined Burberry in 2006. At that point, Burberry had undergone a transformation from stuffy English trenchcoat maker to modern fashion label, but it had a new problem: brand overexposure. You couldn't swing a dead cat and not hit something bearing the trademarked tan-and-brown plaid that Burberry had made famous. Similar to what happened to Gucci in the 1970s and '80s, it threatened to tank the company. Ahrendts slimmed down Burberry's brand portfolio and returned the company to its high-end roots.
2. Ahrendts's hire underscores Apple's desire to stay upmarket. Previous retail chiefs at Apple came from decidedly mass-market companies. Ron Johnson was an executive at Target before joining Apple in Cupertino, Calif., and Browett had held positions at Dixons, a British electronics retailer, and Tesco, the U.K. grocer. Ahrendts comes from the world of galas and Gulfstreams. She will be joined at Apple by Paul Deneve, a vice president in charge of special projects who had previously been CEO of Kering's (formerly PPR) Yves Saint Laurent brand. In an interview with Bloomberg Businessweek last month, Tim Cook clearly stated that the high end of the tech market is where he'd like Apple to be. Grabbing execs from Burberry and YSL, as opposed to, say, Pep Boys and Home Depot, would seem to confirm that strategy.
3. Ahrendts is professionally fancy, but personally more down to earth. Born in New Palestine, Ind., Ahrendts graduated from Ball State University, the alma mater of David Letterman and Oprah-companion Stedman Graham. In what might surprise watchers of both fashion and tech worlds, Ahrendts is an active Christian who reads the Bible daily and wears a cross around her neck.
4. Ahrendts is tall. 6-foot-3!
5. Ahrendts will be the only woman on Apple's senior management team. Take a look at the "Apple Leadership" page on the company's website. Notice anything familiar? At a time when the role of women in tech has become a major conversation point, from Lean In to Marissa Meyer's maternity leave to the gender composition of Twitter's board of directors, Ahrendts will immediately become one of the leading women in Silicon Valley, as well as in the general corporate world.
Before it's here, it's on the Bloomberg Terminal.
LEARN MORE