Why Euro-Skeptics Could Win Big in 2014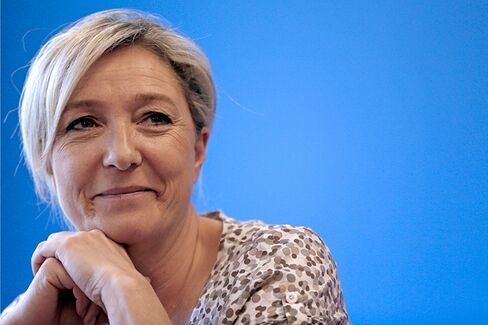 Euro-skeptics flexed their muscles on Oct. 13, as Marine Le Pen and her rightist National Front (FN) won a convincing victory in a local council election in the Provençal town of Brignoles.
Those results, along with resurgent anti-euro parties in Britain and Germany, suggest that opponents of the European Union and the euro currency could make an historically strong showing in elections for the European Parliament next May.
While the European legislature has limited powers, the campaign gives euro-skeptics an opportunity to make their case to voters and rally support for future national votes, such as a planned British referendum on EU membership that could take place as early as next year.
In France, a poll this month by survey group Ifop found that 24 percent of voters planned to support the FN in the May elections, ahead of the 22 percent backing the center-right UMP party of former President Nicolas Sarkozy and the 19 percent who supported President François Hollande's Socialists. That mirrors the results of the Oct. 13 election, a runoff in which the FN drew 54 percent of the vote, vs. 46 percent for the UMP, after the Socialists were eliminated in the first round.
Le Pen, a 45-year-old single mother, has steered the FN away from the overtly racist and anti-Semitic rhetoric of her father, Jean-Marie Le Pen, the party's previous leader. Though still staunchly anti-immigrant, she presents the FN's message in terms of French sovereignty and opposition to the European Union and the euro currency. "We're a patriotic party," she said in a radio interview after the Oct. 13 vote. The FN's opponents, she said, "don't believe in France, they're for a supra-national structure."
The U.K. Independence Party, or UKIP, favors an immediate British exit from the EU. Its leader, Nigel Farage, said he wants European elections next May to be a referendum on that question. UKIP has retained steady support of between 10 percent and 13 percent in recent polls and chalked up major gains in local elections last spring, mainly at the expense of Prime Minister David Cameron and his Conservatives.
Germany's AfD, or Alternative for Germany, was established only a few months ago, but nearly hit the 5 percent threshold for winning a parliamentary seat in September elections. The party now is gearing up for the May European vote.
Chancellor Angela Merkel and her Christian Democratic Union, meanwhile, are still struggling to form a post-election governing coalition.
Some leaders of the new euro-skeptic parties contend they are neither extremist nor right-wing. "You've got to stop calling us something that we are not," Marine Le Pen said on Oct. 13. Still, Le Pen has made common cause with more-openly rightist parties. She told a Dutch newspaper last month that she wanted to campaign jointly for the European elections with Geert Wilders, leader of the Netherlands' PVV party, who has called Islam a backward religion and likened the Koran to Hitler's Mein Kampf.
Before it's here, it's on the Bloomberg Terminal.
LEARN MORE