Corporations Are Swimming in Cheap Cash. So Why Aren't They Investing?
U.S. corporations are currently enjoying the cheapest cost of capital in more than half a century. According to Moody's, average corporate bond yields are just north of 5 percent. That's up from 4.5 percent in April, but by historical standards, it's still dirt cheap. Corporate bond yields haven't been this consistently low since the mid-1960s.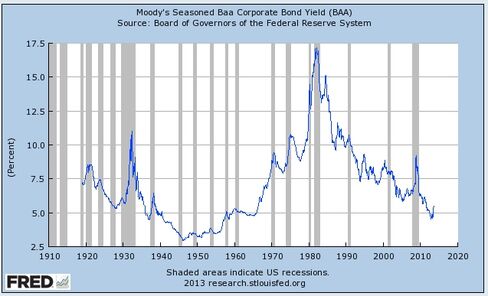 The difference is that back then, businesses were actually spending that cash they were able to borrow so cheaply, buying equipment and building factories and hiring workers. Today they're just hoarding it. The pile of corporate cash on the balance sheets of nonfinancial companies has grown to $1.48 trillion, according to Moody's. That's an 81 percent increase since 2006. "Corporations are flush with cash coming off a huge profit cycle," says David Rosenberg, chief economist at Gluskin Sheff and former chief economist at Merrill Lynch. Rosenberg points out that despite this abundance of cheap money, "we're in the midst of one of the weakest investment cycles ever."
Averaged over the past two years, U.S. nondefense capital goods orders (excluding aircraft) have increased by just 0.3 percent per month. That's less than half the rate of business investment between 1993 to 1998, when corporate bond yields averaged around 8 percent and borrowing money wasn't nearly as cheap as today.
So why aren't businesses investing? Two reasons: weak demand and absolutely zero clarity when it comes to U.S. fiscal policy. This is at the heart of why the recovery has been so slow over the past four years. A new report by Macroeconomic Advisors, prepared for the Peter G. Peterson Foundation, finds that fiscal policy uncertainty has cost the U.S. 900,000 jobs since 2009 and shaved 0.3 percenrtage points from economic growth per year.
Until Congress parts the clouds and gives businesses some bit of certainty as to spending and tax rates, let alone an assurance that the U.S. won't default on its debt and the government won't shut down, expect more of the same. Slow growth, weak demand, and more and more cash being piled onto corporate balance sheets.
Before it's here, it's on the Bloomberg Terminal.
LEARN MORE