The Importance of Tuning Out the Noise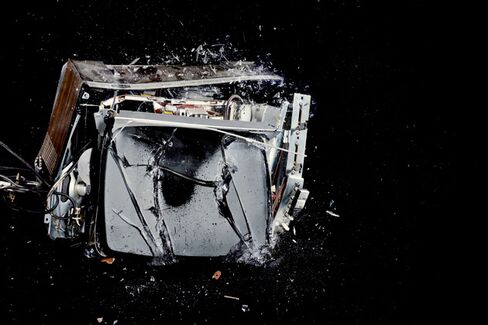 The Dow Jones Industrial Average jumped more than 300 points yesterday on news of talks in Washington to resolve the government shutdown/debt ceiling crisis. Was it a relief rally? A head fake? Will the points disappear if the talks don't produce results?
Who knows? I don't. Nor does Wall Street or the finest brain cells and black boxes in Connecticut hedgie-land. Even the most powerful and decorated economists in the country were pretty much blindsided by the Great Subprime Meltdown, a trauma that chopped stocks in half in just months.
So, yes, we're all pretty much flying blind.
The paradoxical trick to living with this embedded uncertainty is to learn to take comfort in it. To admit that you, too, don't ultimately know. To ignore the noise—pouring out out in ever-surging quantities (cable news actually reported President Obama taking a walk)—and the temptation to time your buying and selling. To spread out your exposure and be merciless about keeping costs and churn low. I tell you this from the very heart of my reporter's notebook.
If it sounds like so much nagging you to drink milk, stay in school, and keep hope alive, check out this sobering analysis by BlackRock: Between 1993 and last year, the average investor eked out a 2.3 percent annual return—a mere julienne of the 8.3 percent a year posted by the Standard & Poor's 500-stock index and 6.3 percent by bonds. Even worse: John Q. Login lagged inflation's average 2.8 percent rise. He—not Clinton v. Gingrich, or Monica, or the Dot-Com Bomb, or Subprime, or Greece—was truly his own worst enemy.
Few out there appreciate how it takes a bit over 7 percent a year compounded to double your money in a decade. You get there by dispassionately contributing, keeping expenses at a minimum, and autopilot-reinvesting all dividends. By comparison, it would take more than 30 years for the average punter's 2.3 percent annual return to double his investment.
The S&P 500 is up 19 percent this year—the Nasdaq 25 percent. The same year that started with prefab hysterics over the Fiscal Cliff ("Budgetary Butte?") and traversed spiking interest rates, all sorts of contretemps out of the Federal Reserve, heightened Mideast turmoil, and now, Washington again playing chicken with the debt ceiling—no less in October, a month notorious for stock market crashes. The U.S. is government is just a week away from running out of money.
"Been there, done that," says the market.
"What is being widely confused as investor complacency is really a stride toward rationality on the way back to financial market sanity," argues James Paulsen of Wells Capital Management. "Indeed, the lack of response probably represents something we should all celebrate and something which bodes well for the future of this economic recovery—greed is finally overtaking fear!"
As "Reformed Broker" Joshua Brown so perfectly characterized it:
I went to cash because (please check one):
1. Sequestration
2. The Taper
3. Obamacare
4. Debt Ceiling
5. Egypt's Revolution
6. Portuguese Bond Auctions
7. U.S. Elections
8. Syria Threat
9. Sharknado
10. China's GDP
11. London Whale
12. High Frequency Trading
13. Nasdaq Freeze
14. Grexit
15. Marc Faber Web video appearance on cnbc.com
16. Larry Summers
17. Low Volume
18. CAPE Valuation
19. Hindenburg Omen
20. Death Cross
21. Other (please explain): _____________
Earlier this year, the broad U.S. market revisited and broke its year-2007 highs. But it was a decidedly muted affair: Hundreds of billions of dollars had been yanked from stock funds since the low. Suddenly, people really want back in. Or maybe.
As for the tiny, silent minority of investors who tuned out the abovementioned apocalypses and maintained faith, discipline, and stomach lining: They were breaking their own record highs far sooner. Try to remember that as you binge-watch C-Span.
Before it's here, it's on the Bloomberg Terminal.
LEARN MORE