Kerry Visits Kabul in Push to Wrap Up Post-2014 Accord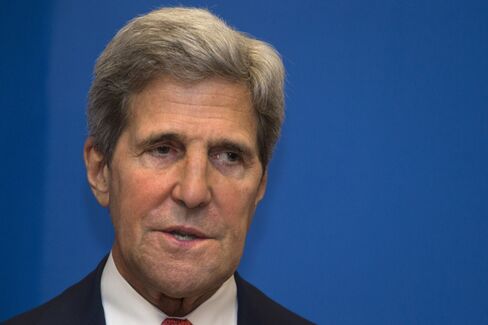 U.S. Secretary of State John Kerry arrived in Kabul today to press Afghan President Hamid Karzai to conclude a security accord that would maintain a limited U.S. military force in Afghanistan after 2014.
Kerry's visit, which wasn't announced in advance for security reasons, comes as disagreements jeopardize the U.S. goal of reaching a bilateral security agreement by Oct. 31. Karzai and President Barack Obama have flirted with accepting failure in the talks, resulting in the U.S. abandoning plans for a residual force of thousands of American troops to conduct training and counterterrorism operations after next year.
The two leaders agreed in an Oct. 5 phone call that Kerry's visit would help inject momentum into the negotiations, two U.S. officials traveling with the secretary said today.
Both sides have reasons to want a deal, so it's "highly unlikely" they'll walk away, said Waliullah Rahmani, executive director of the Kabul Center for Strategic Studies. Still, the negotiations are precarious because both sides are engaging in "a fair amount of brinkmanship," said Stephen Biddle, a senior fellow for defense policy in Washington at the Council on Foreign Relations, a research organization.
'Small Errors'
"It's not really hard for relatively small errors on either side to produce deadlock and failure," Biddle said by telephone. A complete U.S. military withdrawal, especially if coupled with a cutoff of American funds for the Afghan security forces, would be "catastrophic" for Afghanistan, he said.
"In all likelihood, its military and security forces would break up, and you probably would get something that looks a lot like a return to the 1990s-style civil warfare in Afghanistan," he said. "That is not in Afghanistan's interest; I don't think it is in the United States' interest either."
The U.S. now has about 52,000 troops in Afghanistan, down 14,000 in the past six months under a plan to reach 34,000 by February and to have forces out by the end of 2014. Obama hasn't set a force level under a post-2014 accord, although it may be lower than proposed by U.S. military commanders.
No final resolution of the disputes holding up an agreement is expected during Kerry's visit, and the talks will continue after he leaves, the U.S. officials told reporters traveling with Kerry. They asked not to be named in keeping with State Department policy.
Pivotal Stage
Talks over the conditions surrounding any U.S. troop presence after 2014 have reached a pivotal stage, and as in any sensitive negotiation the thorniest issues are the last to be resolved, the officials said.
With 20 days left in the month, the two leaders are seeking to reassure one another over each side's concerns and intentions, and to help their negotiating teams get to the final stage. The U.S. officials declined to say whether negotiations would collapse if the self-imposed Oct. 31 target date isn't met, saying they believe the goal is reachable.
While refusing to discuss specifics of the disagreements between the two sides, the State Department officials said they are focused on creating a framework that addresses the security needs of the Afghan people and ensures the protection of any U.S. forces that might remain after 2014.
Obama has outlined a limited military mission that he is willing to support after 2014: the training and assistance of Afghan security forces and U.S. counter-terrorism operations against al-Qaeda -- so long as an agreement is reached that legally safeguards American forces.
Force Recommendation
Retired U.S. Marine Corps General John Allen, who commanded the International Security Assistance Force in Afghanistan until February, said he had recommended to Obama that the U.S. maintain a force of 13,600 and another 6,000 troops from allied nations. That's more than the 8,000 to 12,000 U.S. and allied troops that then-Defense Secretary Leon Panetta spoke about before stepping down in February.
Defense Secretary Chuck Hagel hasn't said what level he envisions. Administration officials have said that choices reviewed by Obama, whose priority has been to end major U.S. military commitments in Iraq and Afghanistan after more than a decade, have included a "zero option" that would leave no U.S. forces there after 2014.
The U.S. and its North Atlantic Treaty Organization partners in Afghanistan need a legal framework before moving forward in their planning for any troops or equipment that may be needed after the withdrawal of their nations' combat forces by the end of next year. The more time that passes without a clear agreement, the harder it is for both sides to plan, the U.S. officials said.
Working Relationship
Kerry, who first met Karzai 12 years ago when the Afghan leader visited Washington, has seen the two-time president in both capitals numerous times since.
Both men have said they enjoy a good working relationship. Karzai is known for public outbursts in which he has excoriated his patrons in Washington, and has clashed with many senior U.S. officials, including the late Richard Holbrooke, Obama's first special representative for Afghanistan and Pakistan.
The Obama administration wants the personal rapport between the two men to help Kerry reassure Karzai over his concerns about Afghan sovereignty and explain American priorities, including in the fight against al-Qaeda.
Elections Transparency
Kerry will also raise the U.S. interest in free and fair elections for Karzai's replacement next April, with a focus on voter registration and transparency in balloting and vote-counting, the U.S. officials traveling with the secretary said. The U.S. wants to avoid a repeat of the 2009 election that returned Karzai to office amid accusations of vote-rigging.
The fate of the bilateral security agreement has implications beyond whether outside forces will remain to help the Afghan government and be a symbolic bulwark against insurgents. International economic support promised over the next decade is unlikely to come through "without the security platform to facilitate the investment," Allen said Oct. 8.
Uncertainty about what will happen as U.S. and allied troops withdraw has contributed to the decision by some Afghan businessmen to leave the country and shift their operations to Dubai and elsewhere. The uncertainty is compounded by next year's elections.
Any post-2014 American military commitment should be coupled with a negotiated end to the war with the Taliban, Biddle said.
Iraq Example
The failure of similar talks with Iraq, which broke down on the issue of legal immunity for American troops, led to a total U.S. military withdrawal in 2011 that has been followed by growing al-Qaeda attacks and sectarian violence.
Karzai's demand for a U.S. commitment to defend Afghanistan from Pakistan -- its nuclear-armed neighbor and a U.S. ally that also harbors elements of the Taliban and other extremist groups -- is a non-starter, Biddle said.
"The United States can't promise to invade Pakistan if the Taliban use Pakistan as base camps for attacking Afghanistan," he said. "If Karzai is going to insist on that, then that'll blow up the deal."
A second issue is the U.S. insistence on being permitted to continue conducting lethal raids against al-Qaeda and other terrorist targets in Afghanistan, said Aimal Faizi, a Karzai spokesman. The American position on being able to conduct "independent counterterrorism operations" undermines the country's sovereignty, he told reporters last week in Kabul.
Night Raids
Karzai faces pressure to end the "night raids," as American special forces call their sorties. The operations remain unpopular with the Afghan public even as the U.S. has reduced civilian casualties.
The two key sticking points with Afghanistan are "real and difficult," and Karzai may misunderstand "just how fatigued and fed up the Obama administration is with him, and the American public and Congress is with the endeavor," said Caroline Wadhams, a senior national security fellow at the Center for American Progress, a Washington-based research group.
"He has the potential to push too hard and be too intransigent with his demands," and then Obama "could end up walking away," she said by telephone.
"President Karzai does not trust the United States and NATO in how they conduct attacks," Wadhams said.
U.S. troops "can leave" if the agreement "doesn't suit us," Karzai said Oct. 7 in an interview aired by the British Broadcasting Corp. Two days earlier, Obama said in an Associated Press interview that the U.S. will continue to pursue al-Qaeda "even if we don't have any U.S. military on Afghan soil."
"If, in fact, the Afghan government is interested and willing to work with us in a cooperative way that protects our troops and other coalition partners, we would consider a train-and-advise mission that would extend beyond 2014, greatly reduced from what we're doing now," Obama said.
Before it's here, it's on the Bloomberg Terminal.
LEARN MORE