Jamie Dimon Books First-Ever Loss at JPMorgan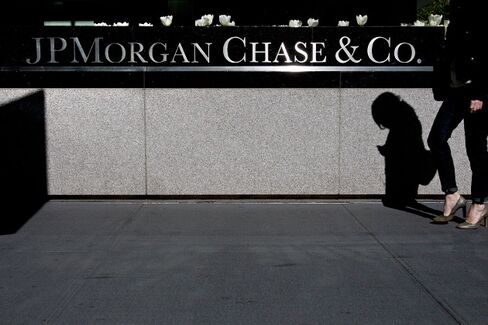 Regulators in Washington have accomplished what the global financial crisis could not: drive Jamie Dimon's JPMorgan Chase to a quarterly loss. The country's largest bank announced a loss of $380 million this morning, after booking more than $9 billion in legal charges in response to an onslaught of government investigations.
"While we had strong underlying performance across the businesses, unfortunately, the quarter was marred by large legal expense," chief executive officer Dimon said in a statement. "We continuously evaluate our legal reserves, but in this highly charged and unpredictable environment, with escalating demands and penalties from multiple government agencies, we thought it was prudent to significantly strengthen them."
Dimon agreed to pay nearly $1 billion Sept. 19 to settle charges with four agencies in the United States and United Kingdom related to its "London Whale" trading fiasco, which cost the company more than $6 billion in losses and knocked JPMorgan off its pedestal as the most respected bank in the land. But JPMorgan still faces a potential $11 billion settlement over alleged wrongdoing in its mortgage business. It's also under investigation for a possible violation of bribery laws in Asia. In July JPMorgan agreed to pay $410 million to resolve a Federal Energy Regulatory Commission probe into its energy trading unit. And the Whale saga is not quite over: two former employees of the London office that made the trades were indicted Sept. 16 on charges of securities fraud.
All told, legal charges for the quarter increased 1,337 percent, from $684 million in 2012 to $9.15 billion.
Without the expenses, JPMorgan would have had net income of $5.8 billion. Shares of JPMorgan rose slightly in pre-market trading.
Earlier this year, when Dimon faced a shareholder referendum over his fitness to serve as both chairman and CEO of the legally besieged bank, some big Wall Street names leapt to his defense with a callous rationale: the company was booking record profits; who cares about anything else? If that's paraphrasing, it's not by much. "The results speak for themselves—enough said," John Kessler, a JPMorgan board member until 2007, told Max Abelson and me in a May Bloomberg Businessweek cover story.
Another former board member, John Biggs, called those pushing for a vote "spiteful and narrow." He added, "Why should shareholders, who've been rewarded handsomely by what's happened under Dimon, why should they come and say, 'Well, we know better than you'?"
The argument that profit excuses all misconduct was on surreal display Sept. 30, when Salon writer Alex Pareene went on CNBC to say Dimon should not remain CEO in light of federal investigations into so many of its businesses. Anchor Maria Bartiromo asked in seeming disbelief: "Legal problems aside, JPMorgan remains one of the best, if not the best, performing major bank in the world today — and you believe the leader of that bank should step down?"
Duff McDonald, a Wall Street reporter cast as Pareene's antagonist, said on the segment: "It's preposterous. The stock's touching a 10-year high. It's a cash generating machine. Sure, they're had their regulatory issues, but [Dimon is] looking to settle them expeditiously."
Dimon's first quarterly loss puts a big dent in that line of thinking.
"While we expect our litigation costs should abate and normalize over time, they may continue to be volatile over the next several quarters," Dimon said today in a statement.
Before it's here, it's on the Bloomberg Terminal.
LEARN MORE